Trading ideas (2): breakouts from downtrends/sideways range - James Latham
2. James Latham (LON:LTHM): a timber merchant that has been a strong performer over the last 5 years, which I have successfully traded in the past (but as usual, got out too early!). I like the steady growth in top-line over the long-term (7% CAGR) combined with a steady operating margin of 6-7%, generating a 14-16% return on capital. There has also been a steady increase in both book value per share and dividends paid over the years. 
Note also the £11.6m of cash on the balance sheet and no debt. For me, this is a quality company...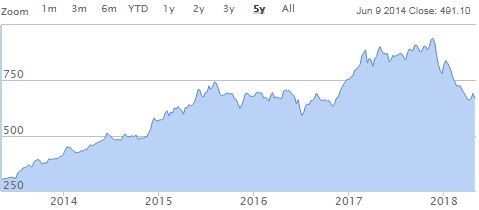 Since the end of November 2017, James Latham has slid considerably from 945p to a 630p low, settling at 670p at last close. 
This slide was triggered by the half-year report, due to the current inability of the company to pass on all cost increases to customers, resulting in a hit to gross profit margins:
 The cost price of our products overall continues to increase in comparison to the comparative six months. This is in part down to the weakening of sterling following the European Union Referendum, but also in this six months we have seen manufacturers increasing prices, and we have not been able to pass all these increases onto our customers. Gross margin for the six month period ended 30 September 2017 was 17.3% compared with 18.7% in the comparative six months. This gross margin is similar to the 17.6% achieved in the second half of 2016/7, and we believe margins are starting to stabilise. We were also affected in this half year by some disruption to supplies from some of our key suppliers' manufacturing facilities, which are now getting back to normal. Selling and distribution costs were 6.4% higher than last year. Distribution costs rise in line with volumes, and we monitor costs per tonne which are up by less than 2%. We have also invested in new specialist sales staff to develop the markets where we see potential for good future growth.
At its last 22 March trading statement, we saw the following in-line comment:

Revenue and profit before tax for the year ended 31 March 2018 are expected to be in line with market expectations.  The relocation of the Company's Wigston depot to the new site in Leicester has been completed successfully with minimal disruption to the ongoing business.  The old Wigston site has now been sold.
So perhaps matters have stabilised and the management have managed the cost pressures better of late...
This leaves valuation looking attractive: 12.5x 2018e P/E ratio, which on an ex-cash basis falls to 11.5x, with a 0.59x enterprise value/sales ratio, cheap given the 6%+ operating margins it generates. 
Something I look for and like in this case is the high level of family/founder participation in the shares. James Latham has a free float of under 50%, partly due to Latham family ownership which totals 16% (as per their annual report) plus another 1.9% held by another director. Statistical analysis has revealed that companies with a significant family  or founder shareholding tend to outperform the broader market over time. 
Looking at the short-term chart below, we see a divergence between price trend (down) and momentum (up), and a consolidation over the last month or so around 670p. 
I am looking for a break above this down trend line (below 700p), and then target 860p.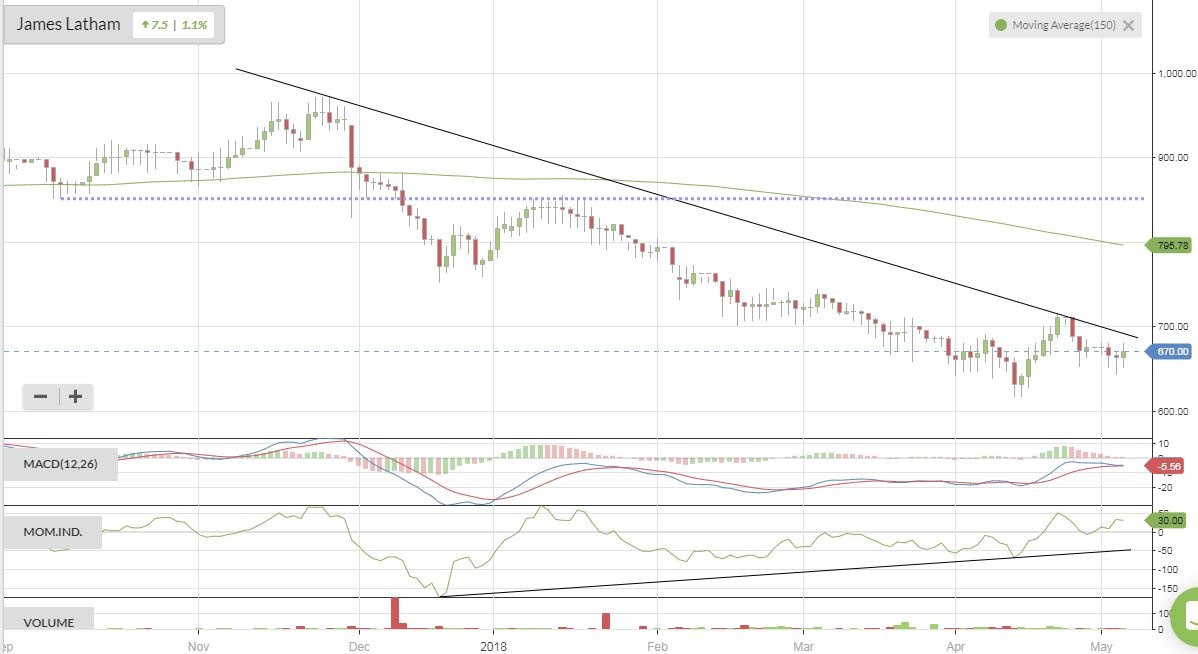 Disclaimer:
My opinions only, not investment recommendations: Please Do Your Own Research
---
---

James Latham plc is a timber and panel products distributor. The Company is engaged in timber importing and distribution, carried out in approximately 10 locations. The Company offers a range of wood-based panel products, natural acrylic stone, hardwoods, high grade softwoods, flooring, cladding, decking and plastics. The Company also supplies commodity and specialist products to timber and builders' merchants. The Company offers a range of product categories, such as panels, solid surface, door blanks, hardwoods, softwoods, engineered timber, flooring, decking, cladding, modified timber and panels, fire retardant panels and technical panels. The Company caters to door and kitchen manufacturers, shop fitters and other market sectors. The Company's subsidiaries include Lathams Limited and James Latham Trustee Limited. Lathams Limited is engaged in importing and distribution of timber and panel products. James Latham Trustee Limited is a corporate trustee company. more »

LSE Price