Trading ideas (4): Breakout to new 12m high, plenty of scope - St Ives SIV
4. ST Ives (LON:SIV): a marketing services and printing company with a chequered history. This last part is burnt into my brain, as I suffered losses with this stock a few years ago on a profit warning...
It has been a sorry tale in the long-term, reaching a high of 622p at the end of 1999, falling as low as 39p by 2017.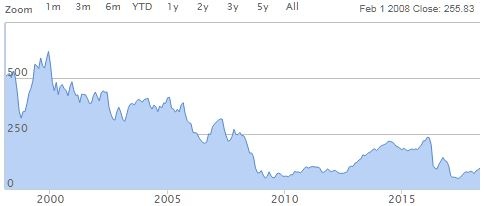 With net losses reported in 2016 and 2017, this is very much a recovery stock right now. But it has reached a new 12-month share price high at 95p, suggesting that optimism abounds. 
There is risk involved in this stock, going by the weak Altman Z score which is teetering on the edge of the red "Distress" zone. However strong 2017 free cash flow has allowed the company to effectively halve its net debt level from £80m to £42m now. 
There is also the sizeable pension deficit to consider, at over £150m...
The latest step in its recovery has been the disposal of the loss-making Clays legacy book production division announced on 1 May:
St Ives, the international marketing services group, announces that it has completed the disposal of Clays, its legacy book production and distribution business, to Elcograf S.p.A., a major European printing group (the "Disposal").

The total consideration for the Disposal, after costs, was £20.0 million which was based on an enterprise value of £23.8 million (subject to cash, debt and working capital adjustments), and was paid in full in cash on completion. In addition, St Ives has retained the freehold to Clays' operating site in Bungay, UK, which Clays will continue leasing from the Group on a long-term basis.
So self-help is very much happening at St Ives. 
There is strong growth at their Strategic Marketing division, which now accounts for the vast bulk of the group's operating profit (https://www.st-ives.co.uk/medi...). 
Valuation is still very cheap, reflecting the company's history and recent losses: 7.7x 2018e P/E and 4.4x price/free cash flow. 
As for the chart, I would suggest that if ST Ives (LON:SIV) stays on the current recovery path, that it could easily close the big gap it opened up in January 2017 (on a profit warning), yielding a 125p target v 94.5p current share…

Unlock the rest of this Article in 15 seconds
Already have an account?
Login here