Trading the Trend - COVID chaos and five stocks on the move
This week the market appears to have gone loopy for anything mentioning Covid-19. It reminds of the Bitcoin bubble, where I bought any company that said Bitcoin or cryptocurrency in its title, without actually reading what the RNS said. Avacta stock rose 100%+ this week due to announcing a point-of-care rapid test collaboration with Cytiva. Other stocks such as NCYT have seen spectacular rises. 
 We have also seen many companies undertake equity raises this week, taking advantage of a bit of froth in the market. This is exactly how companies should be raising, and not from a position of weakness. 

Restaurant Group (RTN) placed an impressive 19.9% of equity at 58p per share. Considering that just a few articles ago the price was around 20p – this is not far off a 200% rise in the price. It puts Restaurant one foot into the survivor's camp, and significantly decreases the chances of it going under. Not that I'd be rushing into buying. Just because the lockdown ends, will everyone be rushing into Wagamama, pubs, cinemas? Some will, but things aren't just going to go back to normal. 
I ordered my grandparents into quarantine over a month ago now before people had started dying here, and in quarantine they will stay until it's safe to come out. That could be a while.
Eventually, the world must go on. I believe the elderly and vulnerable will remain in lockdown, and everybody else will go back to work. The global economy cannot just remain shut. 
AA (AA.) 
I bought this stock for a trade last week on the huge volume spike, and was unfortunately stopped out. I ended up rebuying higher than my stop price, making me feel stupid, but thinking like this is silly. What's the alternative? Not have an exit price? What if AA. continued going down to 5p? I'm not a believer of averaging down – that's for investors. 
Looking at the chart, we can see that yesterday volumes increased even higher, and the stock has now broken out of the tight range. I've been waiting months for this trade, and after getting stopped out I wondered if my thesis was wrong, but the 8 EMA cross after weeks of trending below it was a signal that the trend may be changing.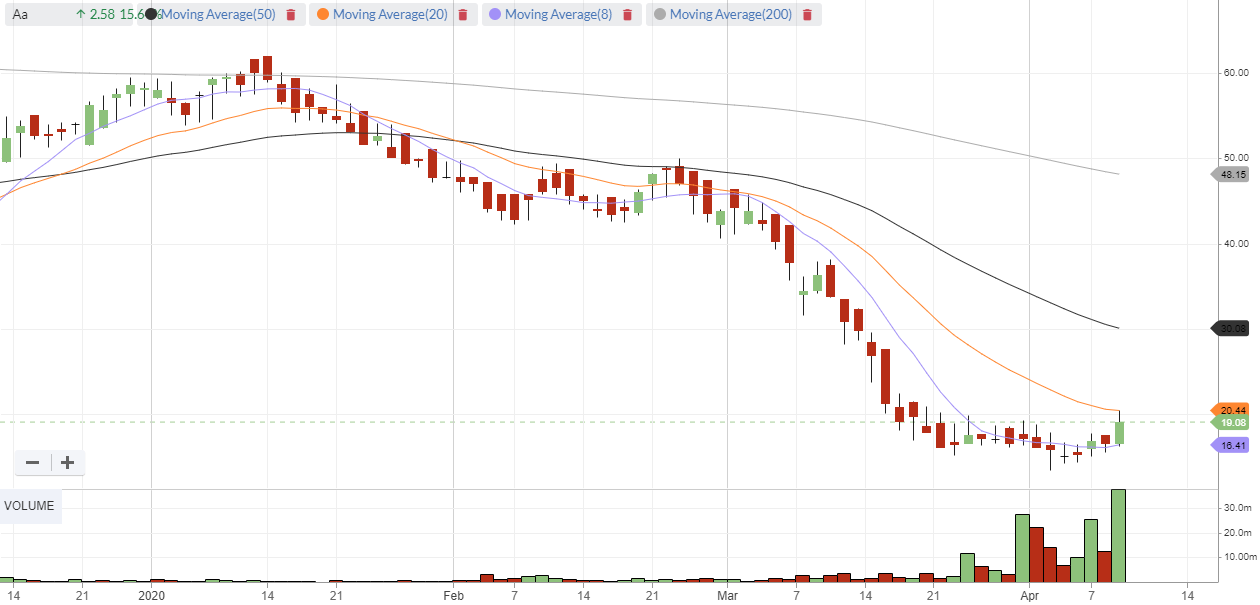 …

Unlock the rest of this article with a 14 day trial
Already have an account?
Login here