UK housing: Why you should bank on builders Barratt, Berkeley and Bellway
The Brexit debate over Britain's upcoming "Stay or Go" EU referendum has had some obvious effects in financial markets, not least on sterling, which has weakened markedly against both the US dollar and the euro in recent weeks.
A more surprising casualty of the economic uncertainty thrown up by Brexit is the UK housebuilding sector. Why should this be the case, given that this is an exclusively domestically-oriented industry?
Housebuilders have been left behind over the last month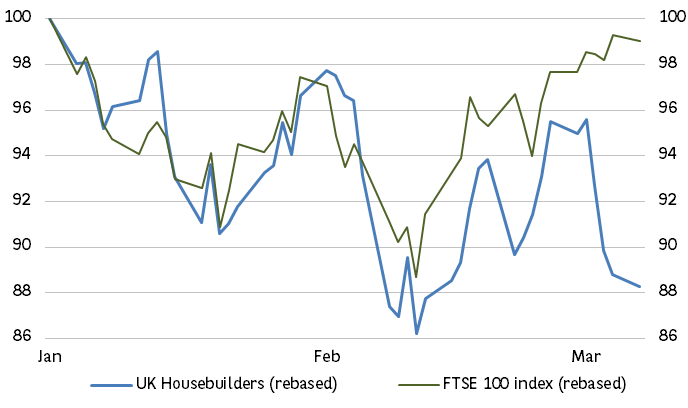 1. Housebuilders still near 2016 lows
Bloomberg
While the bellwether FTSE 100 stock market index has recovered nearly all of the ground lost between the start of the year and early February, housebuilders like Barratt Development, Berkeley Group and Bellway have struggled. Over the year to date, the FTSE 100 has lost just 1%, while these housebuilders have lost on average 12% (Ch
But the long-term is a completely different story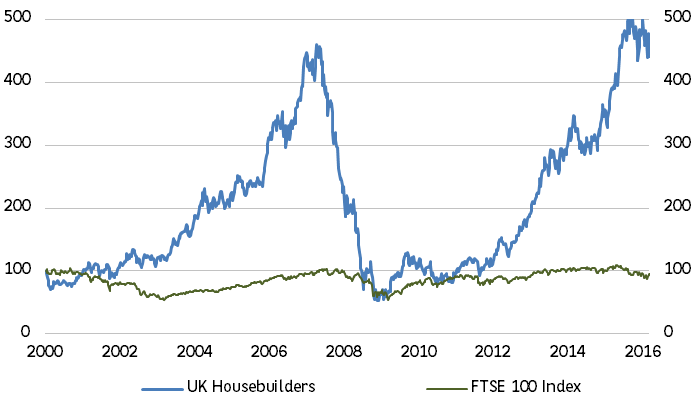 2. Since the year 2000, housebuilders have left the FTSE 100 for dead
Bloomberg
That is all very short-term. But if we pan out and look at a much longer time frame such as since the year 2000, we get a completely different story.
While housebuilders have enjoyed massive highs and suffered crushing lows over time, the last 16 years have seen house builders gain 340% while the FTSE 100 has gone precisely nowhere (Chart 2).
Investors worry about a construction slowdown
A key negative driving housebuilding shares lower is the worry that the UK construction sector is slowing down.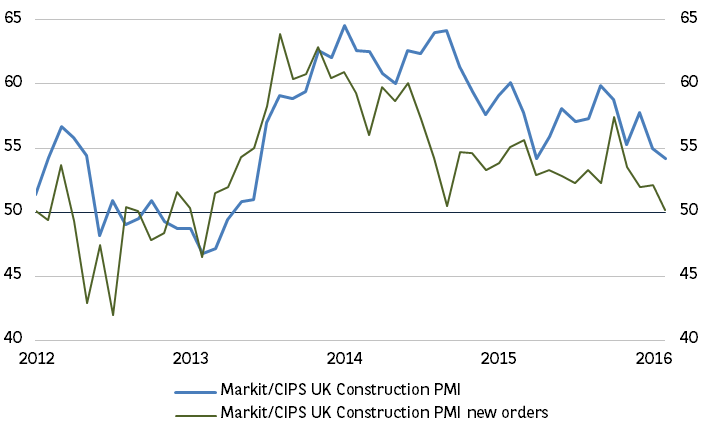 3. UK construction activity growth is slowing
Markit
It is true that the recent Market/CIPS survey of activity in the sector revealed slowing growth but activity is still growing, albeit at a slower pace than previously. (Chart 3).
On the other hand, house price trends have remained remarkably robust, judging by the most recent readings from the Royal Institute of Chartered Surveyors' (RICS) monthly housing survey.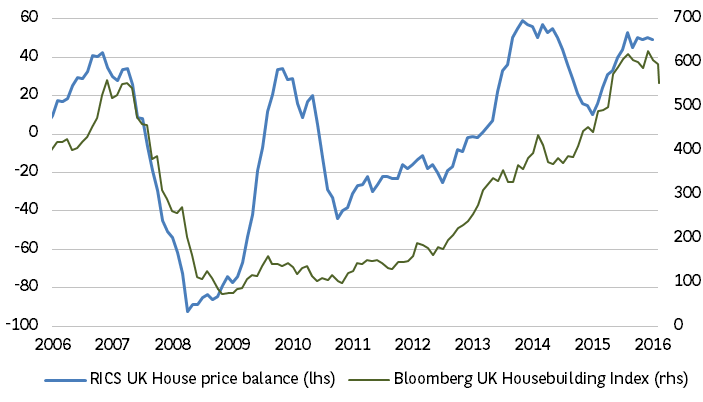 Unlock this article instantly by logging into your account
Don't have an account? Register for free and we'll get out your way
Disclaimer:
My opinions only, not investment recommendations: Please Do Your Own Research
---
---

Barratt Developments PLC is a holding company. The Company is principally engaged in acquiring and developing land, planning, designing and constructing residential property developments and selling the homes, which it builds throughout Britain. The Company operates in two segments: Housebuilding and Commercial developments. Its housebuilding segment operates through approximately six regions and approximately 30 operating divisions delivering over 17,319 homes. Its Commercial developments are delivered by Wilson Bowden developments. It purchases land in targeted locations and designs homes for its customers using standard house designs. Its brands include Barratt Homes, David Wilson Homes and Barratt London. Its Barratt Homes brand focuses on making homes. Its Barratt London brand portfolio offers apartments and penthouses in Westminster to riverside communities in Fulham. Its David Wilson Homes brand offers home design and specification, and focuses on developing family homes. more »

LSE Price

The Berkeley Group Holdings plc is a holding company. The Company, along with its subsidiaries, is engaged in residential-led, mixed-use property development. Its segments include Residential-led mixed-use development and Other activities. Its brands include Berkeley, which creates medium to large-scale developments in towns, cities and the countryside, encompassing executive homes, mixed use schemes, riverside apartments, refurbished historic buildings and urban loft spaces; St George, which is involved in mixed use sustainable regeneration in London; St James, which handles projects that embrace private residential development, commercial property, recreational and community facilities; St Edward, which offers residentially led developments, and St William. Berkeley First is a division of the Company specializing in student accommodation and mixed use residential development within London and the South East. Berkeley Commercial is its commercial property developer and investor. more »

LSE Price

Bellway p.l.c is a holding company of the Bellway Group of companies. The Company is engaged in the building and selling of homes, ranging from one-bedroom apartments up to five-bedroom family homes, as well as providing social housing-to-housing associations. It focuses on providing traditional family housing outside of London and apartments within the London boroughs, in zone 2 and beyond. It operates in 19 trading divisions in England, Scotland and Wales: Durham, East Midlands, Essex, Kent, Manchester, North East, North London, North West, Northern Home Counties, Scotland, South London, South Midlands, South West, Thames Gateway, Thames Valley, Wales, Wessex, West Midlands and Yorkshire. It also offers second-hand homes of various types, such as detached, apartment, terraced, semi-detached, town house, bungalow and penthouse. It also offers various additions covering kitchens, electrical, fire surround and fire, ceramic tiling, flooring, bathrooms and gardens, among others. more »

LSE Price