UK retailers: Challenging bearish conventional wisdom
Conventional wisdom has continued to hold a bearish view of the domestic UK economy for some time now. 
We have all heard about the bankruptcies on the UK High Street including Toys R Us and Maplin. We have also heard of the difficulties of a host of bricks-and-mortar retailers including Mothercare (LON:MTC), and more recently Dixons Carphone (LON:DC.) . 
Nevertheless, there are signs of improvement in the outlook for UK households, and by extension, for UK retailing...
In the chart below, the white line representing consumer confidence shows quite clearly that confidence bottomed out at the end of 2017, and has been on a rising trend since then. The orange line demonstrates that the UK employment ratio (the proportion of the age 16+ population that is working) continues to rise, hitting a new all-time high of 61.1%!
1. UK consumer confidence is improving, UK employment still going up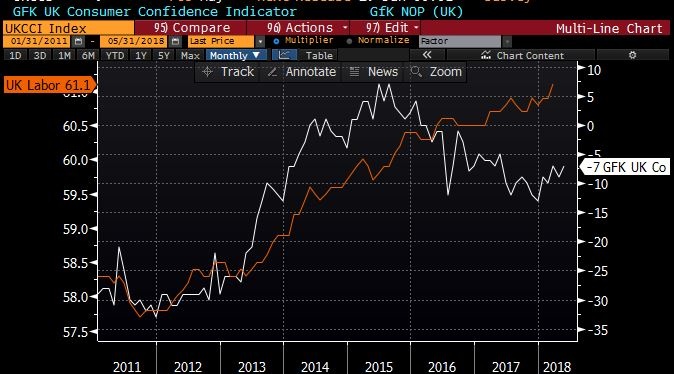 At the same time, we can also see that the UK non-food retailing sector as a whole has been bottoming out over the last few months, trading sideways since the mid-2016 Brexit vote. 
2. UK retail sector no longer falling...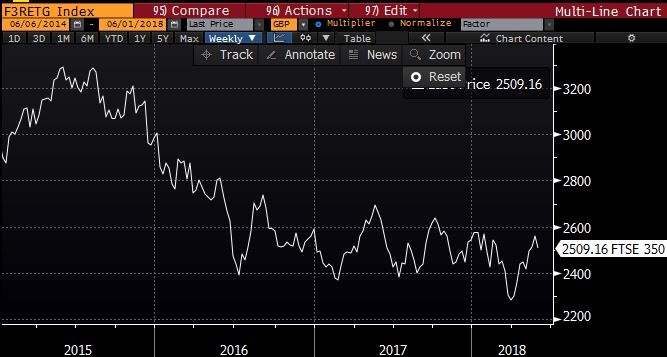 In particular, there have been impressive recoveries/growth in some of the better-run UK retailers such as Next (LON:NXT), WH Smith (LON:SMWH) and B&M European Value Retail SA (LON:BME) of late. 
3. Decent performance since 2017 from Next, WH Smith and B&M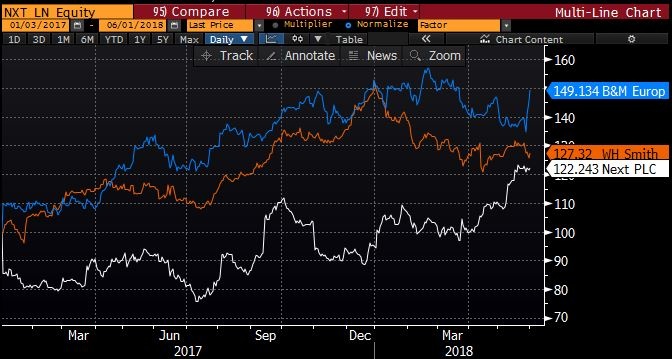 Perhaps most surprising of all is the performance of Dixons Carphone (LON:DC.) Despite a profit warning 2 days ago on May 30 and a host of subsequent downgrades from brokers, the Dixons share price seems to be remarkably resilient, rallying over 20p from the intraday low. 
There is clearly value in the UK non-food retail sector right now, with attractive dividend yields on offer from Next, Marks & Spencer and Dixons to name but three. It is still an out-of-favour sector in general among institutional investors (frankly, the whole UK stock market remains out of favour among international investors thanks to Brexit uncertainty). 
But I see value that may be increasingly realised thanks to a recovering domestic macro situation, the potential for mergers & acquisitions activity to pick up and the fact that investors are paid to wait by generous dividend yields, which are in general well-covered. 
I have unfortunately been invested in Dixons Carphone (LON:DC.), so have taken a hit there but remain optimistic on the turnaround of Carphone Warehouse in particular, Next (LON:NXT) is well on the recovery path with more and I see recovery potential too both in Marks and Spencer (LON:MKS) and Superdry (LON:SDRY). 
This is not even to mention the pure online retail plays like Boohoo.Com (LON:BOO), which should continue to take overall market share to fuel strong top-line and profit growth. 
So perhaps a time to buck conventional wisdom and be more positive on UK domestic plays?
Disclaimer:
My opinions only, not investment recommendations: Please Do Your Own Research
---
---

Dixons Carphone plc (Dixons Carphone) is an electrical and telecommunications retailer and services company. The Company operates through four segments: UK & Ireland, Nordics, Southern Europe and Connected World Services (CWS). Dixons Carphone offers a range of electrical and mobile products, connectivity and expert after-sales services from the Geek Squad and KNOWHOW. Its primary brands include Carphone Warehouse, CurrysPCWorld and Simplifydigital in the United Kingdom and Ireland; Elkjop, ElkjopPhonehouse, Elgiganten, Elgiganten Phone House, Gigantti and Lefdal in the Nordic countries; Kotsovolos in Greece; Dixons Travel in a number of United Kingdom and Ireland airports, and Phone House in Spain. Its service brands include KNOWHOW in the United Kingdom, Ireland and the Nordics, and Geek Squad in the United Kingdom, Ireland and Spain. Its Business-to-business (B2B) services are provided through Connected World Services, CurrysPCWorld Business and Carphone Warehouse Business. more »

LSE Price

NEXT plc is a United Kingdom-based retailer offering clothing, footwear, accessories and home products. The Company's segments include NEXT Retail, a chain of over 500 stores in the United Kingdom and Eire; NEXT Directory, an online and catalogue shopping business with over four million active customers and international Websites serving approximately 70 countries; NEXT International Retail, with approximately 200 mainly franchised stores; NEXT Sourcing, which designs and sources NEXT branded products; Lipsy, which designs and sells Lipsy branded younger women's fashion products, and Property Management, which holds properties and property leases which are sub-let to other segments and external parties. Lipsy also sells directly through its own stores and Website, to wholesale customers and to franchise partners. The Company's franchise partners operate approximately 180 stores in over 30 countries. more »

LSE Price

Marks and Spencer Group plc (M&S) is a retailer in the United Kingdom, with over 1,380 stores around the world. The Company is the holding company of the Marks & Spencer Group of companies. The Company operates through two segments: UK and International. The UK segment consists of the United Kingdom retail business and the United Kingdom franchise operations. The International segment consists of Marks & Spencer owned businesses in the Republic of Ireland, Europe and Asia, together with international franchise operations. The Company is engaged in delivering own brand food, clothing and home products in its stores and online both in the United Kingdom and internationally. The Company sells womenswear, lingerie, menswear, kidswear, beauty and home products, serving customers through approximately 300 full-line stores and Website, M&S.com. It has approximately 910 United Kingdom stores, including over 220 owned and approximately 350 franchise Simply Food stores. more »

LSE Price