US Strategies Review: Growth investing keeps paying as markets hit new highs
The S&P 500 hit new highs again in July. But after a multi-year bull run dating back to 2009, new highs are really nothing new for the index of large-cap US shares. These days headline writers get more animated when the main benchmark loses ground - and there's never a shortage of headlines warning of an imminent crash.

So for onlookers, the performance of American markets has been exhilarating and terrifying in equal measure. In the eight years since the darkest days of the financial crisis the S&P has risen by 230 percent. Other US indices have also been stretching towards new highs. Among them the mid- and small-cap S&P 400, S&P 600 and Russell 2000 benchmarks.
For the 60 guru-inspired investment strategies tracked by Stockopedia these are interesting conditions. We've found over the past five years in the UK that different investing styles outperform during different periods of the market cycle. Our recent review of the screens in the UK showed that small-cap growth strategies had been the big winners so far this year.  So how have the Guru Strategies been faring in the US?
---
Stockopedia's long-only GuruModels span a range of investment disciplines - from deep value small-cap bargains to high yield blue-chip income. Each one of the 60 strategies is categorised as either Quality, Growth, Value, Bargain, Income or Momentum. We launched them with US shares in July 2014.

The strategies model the approaches used by some of the world's best known investors. They're rebalanced quarterly to ensure the shares in each portfolio match the rules of each strategy as closely as possible. Sometimes the demanding rules of these screens mean that some of them don't always offer up adequate numbers of realistically investable stocks. Also, we don't account for the drag of trading costs or the bonus of dividend payments.
---
In terms of performance, all six Guru Strategy categories delivered composite returns of more than 19 percent in the 12 months to the end of June 2017. It was a period when percentage gains across the US indices reached well into into double figures. The S&P rose by 15.5 percent, but it was the tech-heavy Nasdaq Composite which saw the biggest rise, of 26.8 percent.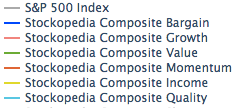 Guru Strategies 12 Month performance - 30 June 2016 - 30 June…

Unlock the rest of this Article in 15 seconds
Already have an account?
Login here