Value & Momentum - the strategy that's crushed the post-Brexit market rally
UK stock market indices have broken out to new highs this month, which is an impressive change of fortune from the Brexit-induced price collapse we saw in June. Despite worries about the economic outlook, it seems the market is taking an optimistic view (helped by some new economic stimulus from the Bank of England). Naturally there's been a lot of speculation about which stocks may or may not do well in these conditions. But a dig into the data shows that it's been Value and Momentum - cheaply priced stocks on a price and earnings uptrend - that have been the biggest recent winners.
Market Performance

In terms of numbers, the FTSE All Share has risen by 16.3% from a low in late June - pushing it to a gain of 9.3% so far this year. That trend has been broadly similar across the FTSE 100, 250, SmallCap and AIM All-Share indices.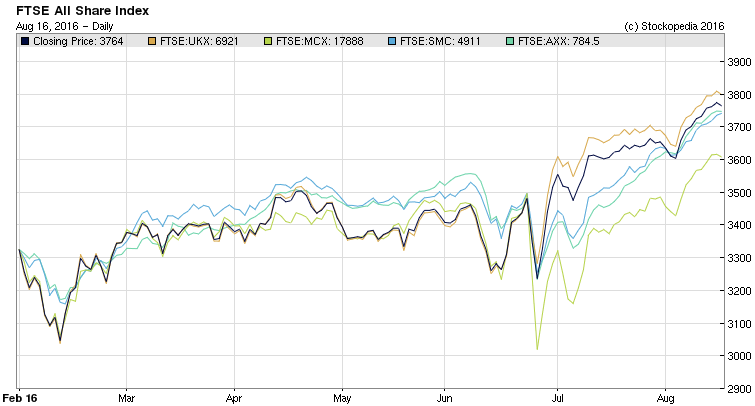 Six-month performance of the FTSE All Share (black), FTSE 100 (orange), FTSE 250 (green), FTSE SmallCap (blue) and AIM All-Share (turquoise).
Financial commentators have given a lot of credit for this market uplift to the stellar gains in stocks that are somewhat protected from the domestic economy. In particular, they've pointed to commodity sectors like mining and oil & gas as some of the best. There's no doubt that there have been some decent gains here, with the likes of BP, Shell, Rio Tinto and BHP Billiton all rising sharply on the Brexit vote as investors looked for safe havens. The same was noticeable in small-cap resource stocks where there were sharp rises in companies like Ithaca Energy and Ferrexpo.
Factors that drove the Brexit vote rally
Nearly two months have passed since the EU vote, and some early patterns are emerging on where the strongest return drivers have been. Stockopedia members will know that we score and rank every stock in the market based on the strength of its Value (whether it's cheap), it's Quality (whether it's financially strong) and its Momentum (whether it's price and earnings trends are improving). You can read more about how the StockRanks work here. What we've seen in recent weeks is that stocks with the greatest exposure to Value and Momentum have delivered the strongest gains.
While that top decile…

Unlock the rest of this Article in 15 seconds
Already have an account?
Login here