Views from the Trading Floor: Saints and Sinners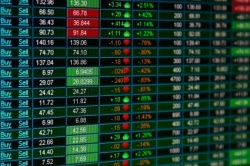 Oil & Gas
President Petroleum Co (LON:PPC) , the oil & gas exploration and production company, with assets in Argentina, jumped 16% higher to 41p before the start of lunch. The company announced it had found oil at the Pozo Escondido Field in northern Argentina. The field is estimated to hold approximately 20 million barrels of oil, but following a petrophysical review of old wells there, the company said it could hold an additional 50 million barrels. The company expects to start drilling a second well at the field shortly. Retail investors helped the stock trade 6 times the average daily volume by lunch. Even after this move higher, the stock is still a long way off its high from this time last year of 80p.
Mediterranean Oil & Gas (LON:MOG) continued its rich vein of volume, trading another 20 million shares by lunch. That was on top of the 59 million shares traded from yesterday. Retail investors got the bit between the teeth, on speculation a large seller had been cleared up. First thing this morning they got the confirmation of that, along with an announcement that said "the gas sales contract between its subsidiary Medoilgas Italia SpA and Elettrogas SpA covering the entirety of the company's net gas production from the Guendalina gas field, has been transferred to the Italian utility Energetic SpA, commencing on and from Feb. 1." Shares traded as high as 5.25p ( 12%) during the day. The stock is a long way from its 23p high this time last year. One for the watch list.
Sticking with the, huge volume that could equate to a large seller being cleared theme, Petroneft Resources (LON:PTR) , a stock that tends to trade approximately 1 million shares a day, the 35 million shares traded before I had finished my lasagne did happen to catch my eye. The shares are a long way from the lofty heights of 70p back in January 2011. The last operations update was back on the 6th of December when the company said "An additional five well hydraulic fracturing program planned on Pads 1 and 2 in January / February 2012." So we will be watching this one for any developments.
Caza (LON:CAZA) Oil…

Unlock this article instantly by logging into your account
Don't have an account? Register for free and we'll get out your way
---
---

URA Holdings plc, formerly Uranium Resources Plc, is a United kingdom-based shell company. The Company is focused on identifying and acquiring business opportunities. The Company has no operations.

LSE Price

Alien Metals Limited, formerly Arian Silver Corporation, is an exploration and development company. The Company is engaged in the acquisition and development of mineral resource assets. It is focused on the development of the San Jose project. It has approximately 20 owned mining concessions split between distinct project areas, including Calicanto project, San Celso project, Los Campos project and Others. The Calicanto property consists of over seven contiguous mining concessions totaling approximately 75 hectares. The Calicanto property is located in the Zacatecas mining district. The San Celso project consists of over three contiguous mining concessions totaling approximately 88 hectares, which are located in the historic mining district of Panfilo Natera-Ojocaliente. The Los Campos project comprises over four concessions covering an area of approximately 500 hectares located on the south side of the city of Zacatecas. more »

LSE Price