Volex still seems a good recovery share
For those not familiar with Volex...
The company is a leading global supplier of cable assembly solutions. They service a diverse range of markets including consumer electronics, telecoms, data centres, medical equipment and the automotive industry.  Volex have clients such as Tesla which makes them sound cool.
One interesting fact is the company was incorporated in 1919, which means it is celebrating its centenary year. That means the company has been through the 1930's depression, WW2, high inflation of the late 70's and financial crash of 2008. So you could say this company has pedigree – it's got big bulls, not tiny bulls :)
Is the company profitable?
Volex profits continue to increase after some years of losses. The operating margin is improving too. As is the ROE and ROCE. The one problem is free cash flow still seems to be lumpy.
Is Volex at fair valuation?
The current PE, at time of publishing, was 8.7 with a PEG of 0.43. I feel this is good value and will be attractive to the long term value investors. The EPS growth rate is an impressive 25% for 2019 and 75% expected for 2020. The balance sheet is now healthy with £20.9 million cash in the bank and no debt.
As investment bank and research firm N1+ singer recently said:
'Volex trades on EV/EBITDA and PE multiples which are towards the low end of the sector and well below the average multiples of overseas cable groups. With improved operating margins of over 7% and further strong progress in the offing, the shares justify an EV/sales multiple of at least 0.7x, which compares to a current valuation multiple of just 0.4x.'
Volex has also started paying a dividend which currently yields 3.64%. Paying of dividends indicates management must be confident in the continuation of its recovery. The dividend yield cover is 4.83, so there should be no expected cut in the dividend unless of course there was a deep recession, in which case you might presume they would pause dividend payouts.
Technical analysis
The price action still looks bullish with overall positive momentum. Although the price has dipped below the 200 day MA - however this is a pattern that appears on a regular basis. If price can hold above the 80p level we could see a push back to the 100p level.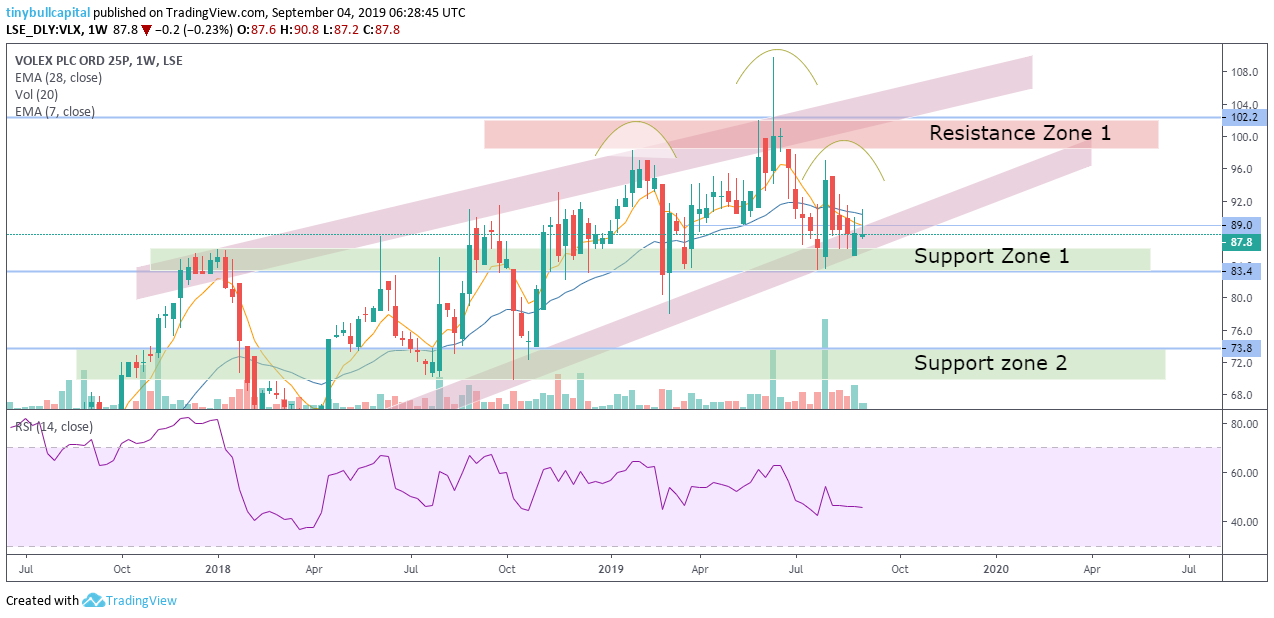 Happy to hold
…

Unlock the rest of this article with a 14 day trial
Already have an account?
Login here