---
Water Intelligence (LON:WATR) came to the Aim market in 2010, through a reverse takeover of Qonnectis plc. Its principle asset is the American Leak Detection (ALD) business, which it operates on both a franchisee and corporate-owned basis.
Background

As described in the 2010 prospectus:

http://www.waterintelligence.c...
"ALD focusses on the accurate, non-destructive detection of all types of leaks including hidden water and sewer leaks, together with repair and other related services. ALD's service technicians utilise proprietary training and specialist equipment such as infrared cameras and acoustic devices to pinpoint leaks, employing less invasive methods to find the source of the leak compared to breaking or drilling holes in walls and floors. Because leaking water can travel along water lines or leaks may be pinhole size along a water pipe, in many instances, ALD's service offerings have the potential to reduce the repair costs for the consumer compared with typical plumbing solutions as they do not rely on a "trial-and-error" method of exposing whole sections of pipes to detect leaks".
Also taken from the prospectus:
"[ALD] believes that its competitive advantages include its full range of service offerings, its brand and over 30 years of experience, the specialised equipment it uses, the training it provides its franchise owners and technicians working from business run directly by ALD, its marketing system and the key relationships it has with channel partners such as insurance and restoration companies. For certain segments of its business, ALD may face competition from others, including independent plumbers, repair services, other leak detection companies and services".
"[ALD] is aware of certain other companies or businesses that offer leak detection services. However, as far as it is aware, these businesses tend to be small owner-run operations without the franchise or branding presence of ALD".
The Franchisee Business
The ALD franchisee business is the core business of Water Intelligence.
ALD's revenue model is principally derived from franchise royalties. Franchisees pay monthly royalties based on a percentage of gross monthly sales, ranging from 6% to 10%. It also derives revenue from the sale of new franchises and supplying its franchisees with revenue and equipment at a modest mark-up.
As of year-end 2016, ALD had 96 franchisees, the vast majority being in the USA. System-wide sales for 2016 were approximately $75m, generating franchise royalty income to the Group of $5.5m.
http://www.waterintelligence.c...
Franchise revenue is on an upwards trend, in spite of a reduction in franchise numbers as some have switched to being corporate-owned (more later). In fact, this trend has accelerated during the first four months of 2017, rising 7.7%, driven mainly by new national agreements with an insurance company and a pool management company.
http://www.investegate.co.uk/w...

However, what the market seems to have overlooked is the remarkable stability of this income stream, which has the characteristics of an index-linked annuity. This reliable, high margin business provides a remarkably strong foundation for the investment for growth going on elsewhere in the business.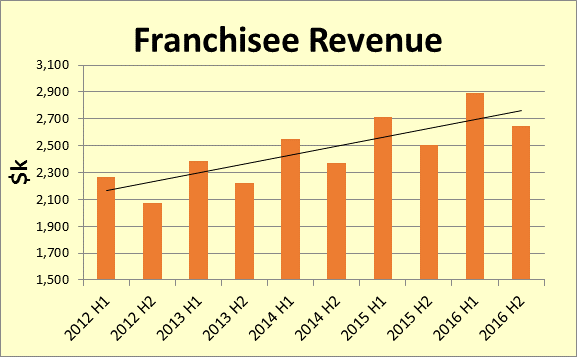 Corporate-owned Franchises
Water Intelligence has a strategy of selectively buying back franchisees in order to retain a greater share of the profits and to create regional hubs to support continued franchisee growth at a local level. During 2016, it increased corporate-owned franchises from six to ten and has added two more (one a start-up) so far during 2017.
The corporate-owned franchises are the major engine of revenue growth, rising 61% to $4.2m in 2016 and 60% in the first four months of 2017. Although much of this growth relates to the expansion of the network, it is also driven by organic growth after reacquisition.
International Businesses
Although ALD has operated various international franchisees for many years, during 2016 it took its international strategy a step further by buying businesses in Australia and the UK. The Australian business was a former franchisee but the British one, NRW, is a bigger company specialising in municipal work, most notably with Thames Water. NRW is now supporting corporate and franchise locations elsewhere to bid for and execute municipal jobs.
NRW contributed $0.5m of revenue during the first four months of 2017.
Financials
Only one broker – finnCap – covers Water Intelligence. For 2017 and 2018, finnCap forecasts revenues of $14.8m and $16.3m, respectively. These have not been updated in response to the very bullish message on revenue growth in the June trading statement. My own forecasts, which I do not consider aggressive, give $15.8m for 2017 and $17.2m for 2018.
The June trading statement indicated profits in line with expectations due to the costs associated with increased headcount and infrastructure to enable accelerated revenue growth. finnCap forecast net profits of $0.91m for 2017 and $1.11m for 2018. I am somewhat more conservative, at $0.78m and $0.84m, respectively.
Cash at end-April was $935k, which the company advised was "sufficient to execute its growth plan". My projections do not suggest any cash flow strain is likely over the next two years.
Downsides
Besides the normal risks arising from any small cap investment, there are specific risks applying to Water Intelligence that should be taken into consideration.
Firstly, it is an overseas business listed on AIM. There are many unfortunate precedents in this regard that have cost UK investors a great deal of money. There are two factors that give me reassurance in this regard, however: (1) It is a US company, rather than Chinese, Malaysian or Greek; and (2) the reverse takeover of a complementary business at least gives a sensible reason for it ending up on AIM.
Secondly, Patrick DeSouza appears to have a potentially over-dominant role. He is Executive Chairman of Water Intelligence, contrary to governance best practice. He is also Chief Executive Officer of Plain Sight, a related party to Water Intelligence bringing clear potential for conflicts of interest. Finally, he is the largest shareholder, with 24.8%. He seems to be playing things straight thus far, however.
Valuation
Water Intelligence appears to be well-positioned to establish a dominant position in a fragmented market. It is showing excellent growth, driven both organically and by acquisition. It is already profitable and its growth ambitions are underpinned by the near guaranteed profitability of the franchisee business, I consider a PE ratio of 25 a perfectly reasonable target.

Taking my projected results and adjusting for debt, options, deferred considerations, amortised intangibles, FX, etc, I arrive at a valuation of 183.2p, which represents a premium of 38% to today's price of 132.5p.
I consider Water Intelligence to be a STRONG BUY.
Declaration of Interest
I hold 65,000 shares at an average of 118.8p.
[EDIT - Now 103,985 at an average of 146.4p (October 2018)]
Disclaimer:
As per our Terms of Use, Stockopedia is a financial news & data site, discussion forum and content aggregator. Our site should be used for educational & informational purposes only. We do not provide investment advice, recommendations or views as to whether an investment or strategy is suited to the investment needs of a specific individual. You should make your own decisions and seek independent professional advice before doing so. The author may own shares in any companies discussed, all opinions are his/her own & are general/impersonal. Remember: Shares can go down as well as up. Past performance is not a guide to future performance & investors may not get back the amount invested.
---
---

Water Intelligence plc, formerly Qonnectis plc, provides leak detection and remediation services. The Company offers a range of solutions (including products) for residential, commercial and municipal customers. The Company's segments include Royalties from franchisees, Corporate-operated Stores and Other activities, including product and equipment sales. Its geographical segments include US and International. The Company mainly operates in the United States, with operations in the United Kingdom and certain other countries. The Company's subsidiaries include Qonnectis Group Limited (holding company of ALD International Limited), ALD International Limited, American Leak Detection Holding Corp. (holding company of ALD Inc.) and American Leak Detection, Inc. (ALD). ALD International Limited and ALD provides leak detection product and services. more »

LSE Price