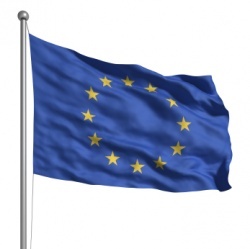 Once again, ee has taken the words out of my mouth :0) .. "Of course the possibility is a serious one that the Euro project is (and always was!) fatally flawed...and the only solution is one of:
a) full fiscal union (v unlikely)
b) formal defaults by Greece, Italy, Spain etc (also unlikely as Eurozone banks would need to take large haircuts and make substantial provisions - as RBS has already done with Greece, incidentally)
c) dividing the euro into a hard euro and a soft euro....or just chucking out those who don't pass the test. (the trouble with that approach is that markets will continue to pick off the weak until the Eurozone consists of Germany and France ;-)) 
But Merkel has already indicated she stands behind the euro. But she hasn't understood the scale of commitments that this implies. IMO they have to do a very much larger deal - and, for Merkel, it will probably cost her the next election....but it has to be done".
One thing seems certain: the euro cannot continue as at present indefinitely. The global economy and hence our investments are fundamentally affected by instability in Europe. I was at the first AGM of the JP Morgan Brazil Investment Trust (LSE:JPB) last week and was surprised and interested the learn that Brazil's largest trading partner (for exports) is not the US (9.5%), nor China (15.3%), but the EU (21.5%)!
So ISTM that it would be worth creating a place to discuss this topic.
My own view is that the most likely ultimate outcome is some sort of breakup of the euro, i.e. c) above  - or even a complete breakup where each country reverts to their own currency. I take this view because I cannot see the German electorate being prepared to accept a German underwriting of PIIGS debt. Equally I cannot see countries being prepared to accept the loss of sovereignty that full fiscal union implies.
It may be quite a while before we reach the point where something dramatic and decisive happens. Maybe sticking plasters can continue to be applied for some time to come - maybe not!
A particular aspect of this that I am curious about is the impact on contracts that are written in Euros. There are many types of contract written in Euros. Some that occur to me are:

Unlock this article instantly by logging into your account
Don't have an account? Register for free and we'll get out your way
Disclaimer:
The author may hold shares in this company, all opinions are his own and you should check any statements that appear factual and not rely on them before making an investment decision. The author is NOT a qualified analyst nor authorised to give investment advice. Whilst the author is a director of ShareSoc, all views expressed are entirely his own and not necessarily those of ShareSoc.
---
---