The price of oil (and energy in general) is significant for all investors, not just those invested in oil companies, as energy costs are a key input to the economics of many businesses. Hence the recent sharp decline in prices will have widespread economic ramifications, not just the obvious impact it has already had on the share prices of businesses linked to the sector. A key question is therefore "are we there yet?" - have we reached the bottom after the declines of the last few months and are we likely to see a rebound?
As my Twitter followers will know, I have been bearish on the oil price for some time now, since it became clear that the world was facing an oversupply. To a significant degree this oversupply has been driven by recent rapid growth in US oil production, to such an extent that it has now overtaken Saudi Arabia as the world's largest oil producer, combined with lacklustre global demand in a slowly growing world economy. The dramatic recent US production growth can be seen in this chart: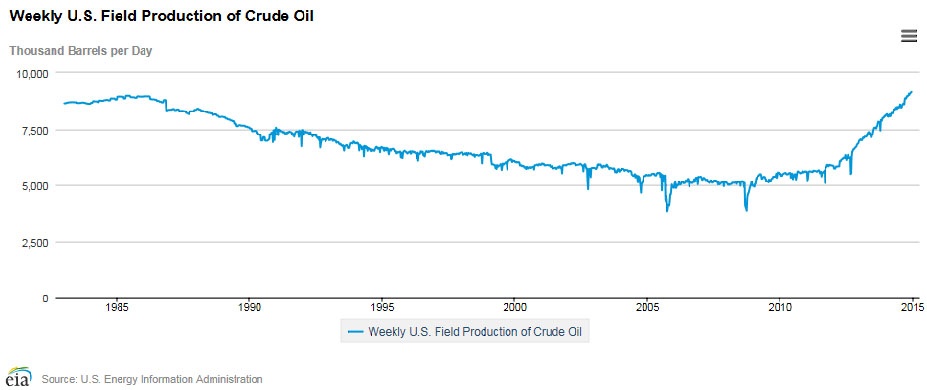 C
Much of this production growth is driven by the application of recently refined horizontal drilling and fracking techniques to shale oil deposits. Such techniques, however, have an interesting characteristic: shale wells typically have strong initial flows, followed by a steep decline in production, typically declining by 70% within the first year. The implication of that is that whilst drilling proceeds at a rapid pace, production too will rise rapidly - but when drilling slows, production can decline equally rapidly, as the rate at which wells decline starts to exceed the amount of new production coming on stream
I have therefore considered the weekly rig count figures published by Baker Hughes as an important leading indicator for production, which in turn will drive prices, and have been monitoring the rig count closely. The latest figures suggest that we might finally be starting to see some slowdown in drilling activities, as more and more producers find drilling to be uneconomic at current prices. I wished, however, to get a clearer picture of whether the recent cutback was significant or merely seasonal (year on year rig counts are still substantially above prior year figures for North America as a whole, though down for Canada). I therefore…

Unlock this article instantly by logging into your account
Don't have an account? Register for free and we'll get out your way
Disclaimer:
The author may hold shares in this company, all opinions are his own and you should check any statements that appear factual and not rely on them before making an investment decision. The author is NOT a qualified analyst nor authorised to give investment advice. Whilst the author is a director of ShareSoc, all views expressed are entirely his own and not necessarily those of ShareSoc.
---
---