Why ASOS PLC no longer has an edge?
If you are a shareholder at ASOS, there is a chance you won't like the analysis below. But it is better to offer a different perspective on ASOS.
ASOS is Britain's largest online retailer with sales coming in at £2.42bn, up from £1.92bn last year. 
For ASOS, it isn't surprising because it marks their "18th" year of sales growth (since 2000).  
ASOS has been at the beginning of the online revolution of selling clothes online. I know there are others before ASOS in the 90s, but most of the early online retailers (apart from eBay and Amazon) have vanished when the "dot.com" bubble burst in 2001.
Below is how much online has taken over retail sales.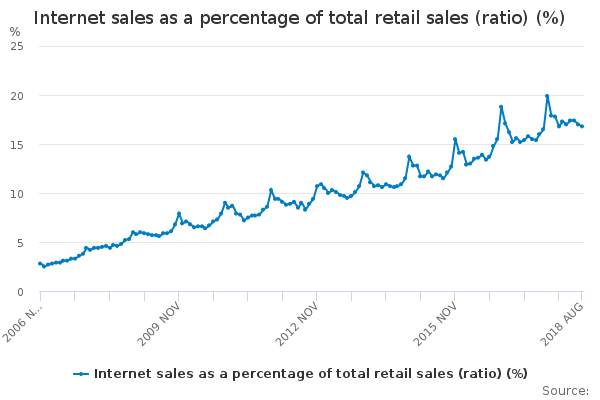 And ASOS benefitted greatly from the rise.    
Now, it has 18.4m active customers and in total made 63m orders, this increases every year.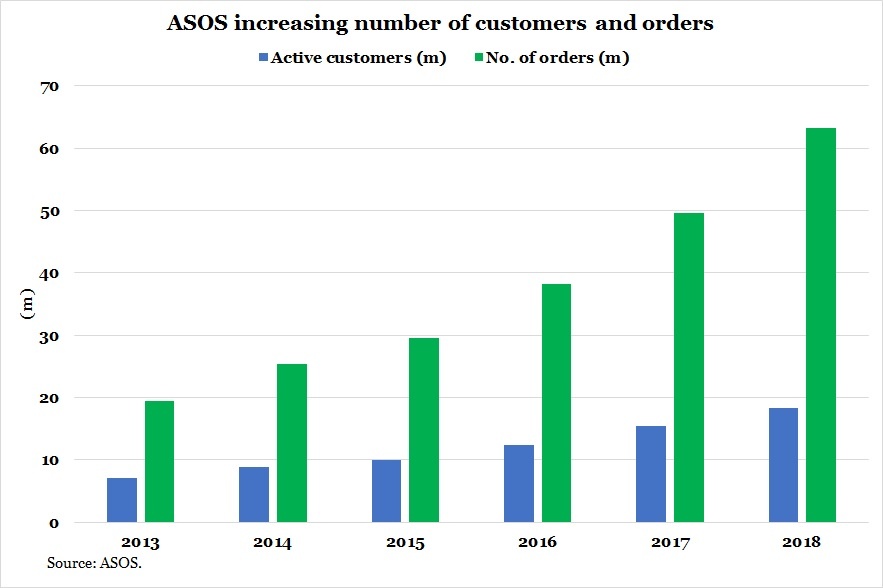 The stock market is valuing ASOS sales at their lowest level since 2015
No doubt we saw ASOS's share price rose over the medium-to-long-term. For example, ten years ago, if you were a shareholder, you had enjoyed returns of 1,900%. More recently, ASOS's share price fell 36% since March 2018, and that gives the market valuation of ASOS's sales, its price to sales to 1.9 times (the lowest level since 2015, when P/S was 1.3 times).  
So, why is the market de-rating ASOS's price to sales ratio?
The problem doesn't lie in its operating profits as this grew from £80m to £102m. 
The problem lies in its operating margin which came in at 4.2%, compared to last year 4.1%, which is an improvement, however profits fluctuate every year. So, over the long-term, ASOS has seen their margins half. And this adds pressure for ASOS to continue growing at 25%-30%, in order for profits to grow.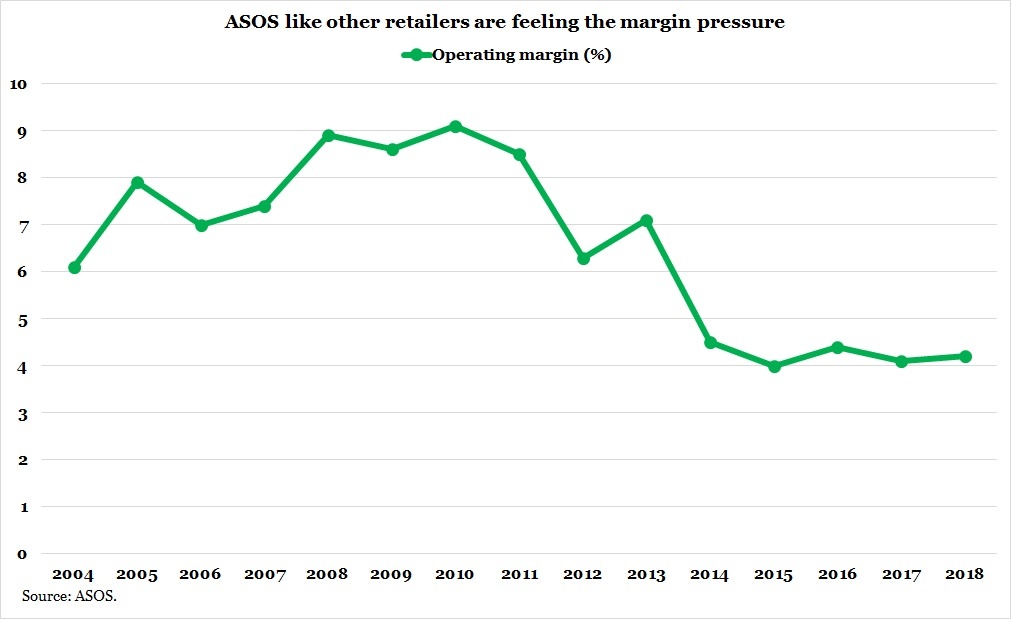 And this adds pressure to ASOS because despite high sales growth, profits grew slower.
ASOS spending more to grow capacity
ASOS is planning on growing capacity to meet growing demand.  
Right now, their PPE grew from £137.4m to £241.6m and plans to deliver sales of £4bn p.a.
However, are there other reasons for sales capacity to expand? One reason (I believe) is to maintain profit growth, but because it is struggling with…

Unlock the rest of this Article in 15 seconds
Already have an account?
Login here