Why Mitie could see another 25% drop in its share price
Key talking points on why Mitie see another 25% drop
1. According to Jim Artimitage of the Evening Standard, the new CEO Phil Bentley is a sort of fella goes looking for skeletons in Mitie's cupboard to implement a massive write-down on its assets.
2. Goodwill is likely to get written down by 45% because Goodwill turnover has deteriorated from 8.1X to 4.8X, helping to drag overall asset quality lower.
Therefore, a write-down of £200m from goodwill will mean shareholders' value will fall to £206m from £450m
3. Mitie is likely to see zero sales growth in the future, along with contracting earnings.
In the last five years, average sales grew 2% p.a., whereas cash profits increased by £10m.
4. The company runs a net debt position close to £170m.
5. Some people will say Mitie go the way of Connaught PLC, but, in my opinion, this is an unlikely scenario because it has £200m+ in undrawn debt facilities expiring in 2019.
Therefore, the target price for Mitie in the next 12 months is £1.35 to £1.50/share.  
A MITIE RECOVERY OR A MITIE CRASH IS LOOMING
Shareholders in Mitie experienced the crash, as the support services group saw its shares fell by 40% since 2015.
The company, which provide assistances with healthcare, building maintenance and twenty other kinds of works are blaming on "BREXIT," higher minimum wages and declining local authorities' budget.
Is the drop in its share price a temporary blip to this consistent profit-making business (it hasn't made an "accounting loss" in 20 years), or is Mitie facing the same fate as Connaught PLC (went bust in 2010)?
Your Mitie Briefing
One of the most important aspects of Mitie business is its "Soft" facilities management division.
This group includes cleaning, environmental services, security, catering and front of house services, which makes up 50% of total sales and 70% of operating profits.
Despite, a quick recovery in 2016, earnings in 2017 are expected to decline by £10m against its bottom line, so how does this compare and affect the overall business at Mitie?   
An in-depth financial + operational analysis
Mitie consistent earnings record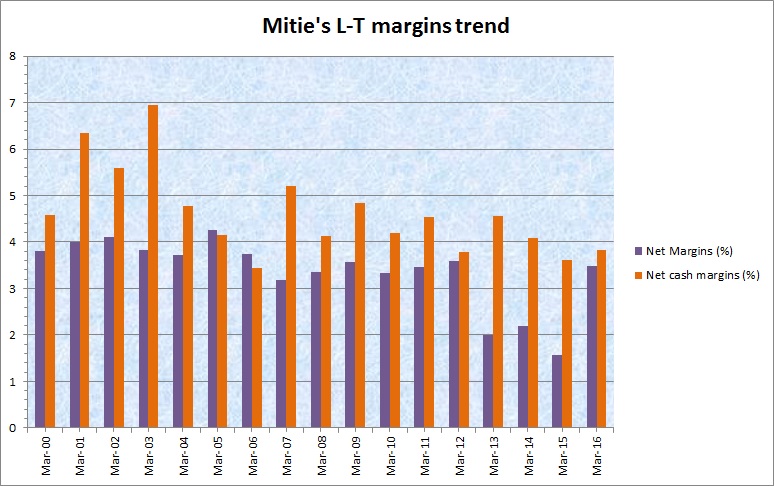 Source: Mitie's annual reports.
(As stated) the long-term trends in Mitie's net margins for both accounting profits and cash profits have been consistently positive.
Despite poor performance during 2013-15, it made a recovery in 2016.
However, the warning of…

Unlock the rest of this Article in 15 seconds
Already have an account?
Login here