Why Mitie could see another 25% drop in its share price
Key talking points on why Mitie see another 25% drop
1. According to Jim Artimitage of the Evening Standard, the new CEO Phil Bentley is a sort of fella goes looking for skeletons in Mitie's cupboard to implement a massive write-down on its assets.
2. Goodwill is likely to get written down by 45% because Goodwill turnover has deteriorated from 8.1X to 4.8X, helping to drag overall asset quality lower.
Therefore, a write-down of £200m from goodwill will mean shareholders' value will fall to £206m from £450m
3. Mitie is likely to see zero sales growth in the future, along with contracting earnings.
In the last five years, average sales grew 2% p.a., whereas cash profits increased by £10m.
4. The company runs a net debt position close to £170m.
5. Some people will say Mitie go the way of Connaught PLC, but, in my opinion, this is an unlikely scenario because it has £200m+ in undrawn debt facilities expiring in 2019.
Therefore, the target price for Mitie in the next 12 months is £1.35 to £1.50/share.  
A MITIE RECOVERY OR A MITIE CRASH IS LOOMING
Shareholders in Mitie experienced the crash, as the support services group saw its shares fell by 40% since 2015.
The company, which provide assistances with healthcare, building maintenance and twenty other kinds of works are blaming on "BREXIT," higher minimum wages and declining local authorities' budget.
Is the drop in its share price a temporary blip to this consistent profit-making business (it hasn't made an "accounting loss" in 20 years), or is Mitie facing the same fate as Connaught PLC (went bust in 2010)?
Your Mitie Briefing
One of the most important aspects of Mitie business is its "Soft" facilities management division.
This group includes cleaning, environmental services, security, catering and front of house services, which makes up 50% of total sales and 70% of operating profits.
Despite, a quick recovery in 2016, earnings in 2017 are expected to decline by £10m against its bottom line, so how does this compare and affect the overall business at Mitie?   
An in-depth financial + operational analysis
Mitie consistent earnings record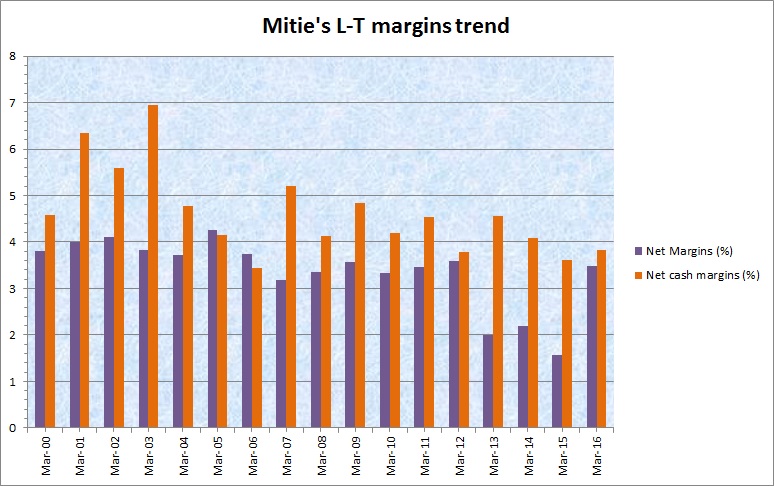 Source: Mitie's annual reports.
(As stated) the long-term trends in Mitie's net margins for both accounting profits and cash profits have been consistently positive.
Despite poor performance during 2013-15, it made a recovery in 2016.
However, the warning of a poor 2017 means margin is getting squeezed again!
Mitie assets quality deteriorates
If a business is to earn a superior return, then asset turnover is your go to ratio!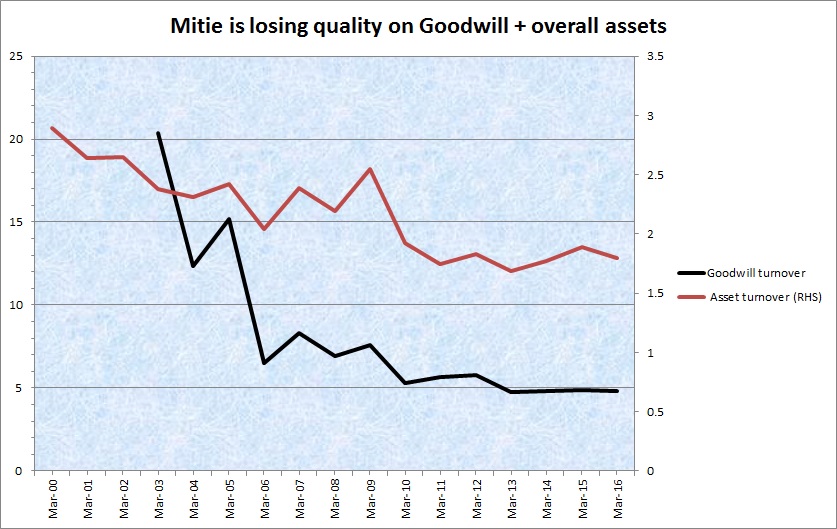 Source: Mitie's annual reports.
The graph shows Mitie is operating inefficiently, as assets are struggling to frequently turnover causing the "Asset Turnover" to decline from 3X to 1.8X in 16 years.
Worse still, is Mitie's "goodwill assets" because that has collapsed by 75% from 20X to 4.8X.
These results show Mitie needs to write down its assets values.
The average ratio of its asset turnover since 2000 is 2.2X against the current 1.8X caused by the deteriorating value of its goodwill assets.
By the way, goodwill turnover has average 8.1X since 2003 it is currently at 4.8X, a 45% decline.
To increase the quality of Mitie's goodwill assets, it must write-off 45% of its value!
It will result in Mitie devaluing its goodwill from £465m to £256m, therefore wiping out £209m of shareholders' value. 
How Mitie is justifying increasing Debt/equity by using a bank ratio
Mitie hasused debt in the last decade to fund its various acquisitions for expansion.
The consequence is the increased in leverage.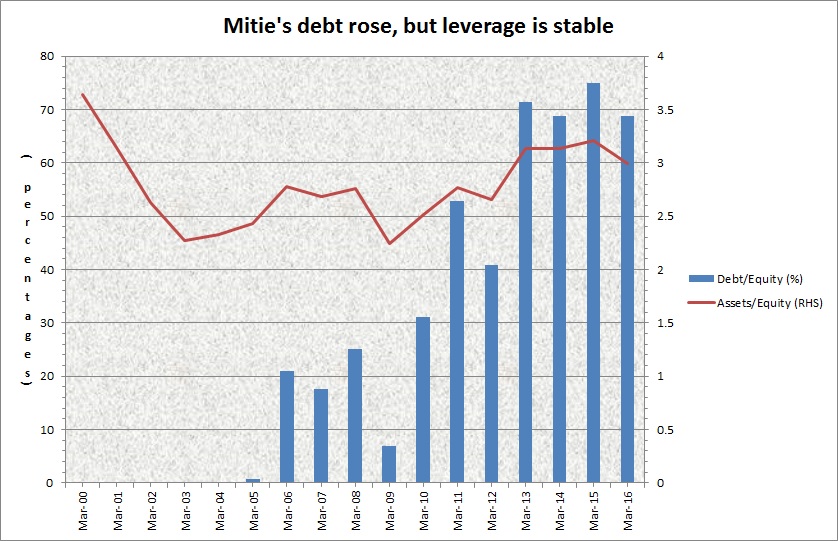 Source: Mitie's annual reports.
But in Mitie's defence it could say its assets/equity ratio (a ratio used by banks to measure "Tier 1 Capital") remains stable and unchanged, therefore it is safe and unleveraged!
However, Mitie's assets are overvalued (as shown from its asset turnover ratio).
So, for goodwill to maintain its quality value, £209m need to be written down from the firm's equity and assets, and you get this:
| | | |
| --- | --- | --- |
| | Previous value | After value |
| Goodwill (£m) | 465 | 256 |
| Total Assets (£m) | 1,242 | 1,033 |
| Equity (£m) | 415 | 206 |
| Assets/Equity | 3 | 5 |
All of a sudden, Mitie's financial leverage has increased from 3X to 5X.
Looking into Mitie workforce
Since Mitie is a labour-intensive business, it is important to assess labour productivity.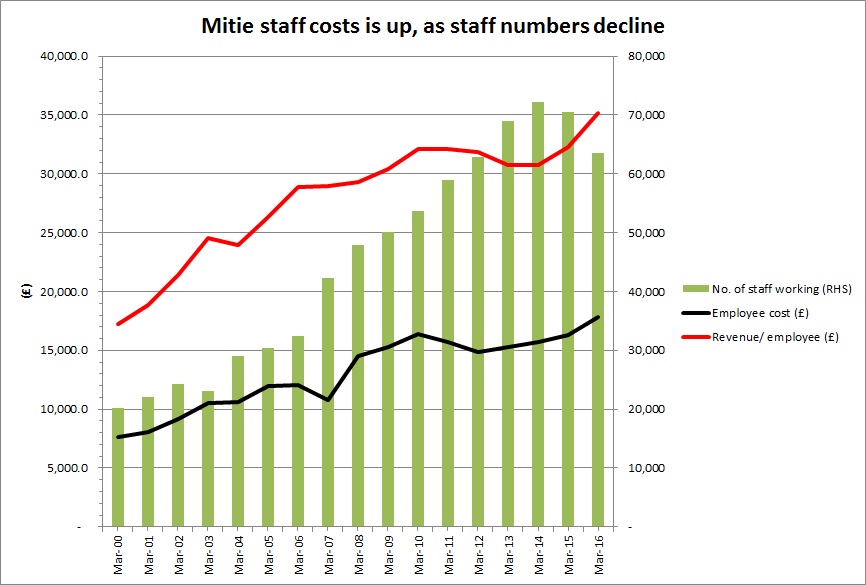 Source: Mitie's annual reports.
The growth in Mitie's labour workforce has tripled since 2000 but has recently declined with job losses accounting for 12% of its total workforce.
Despite, the cuts in labour, staff costs have risen (I assume redundancy costs), but this led to a productivity boost as revenue per employee reached £35k.
However, Mitie (as mentioned by management) will be affected by hikes in national wages as cost per employee is £18k (this includes other benefits + bonuses).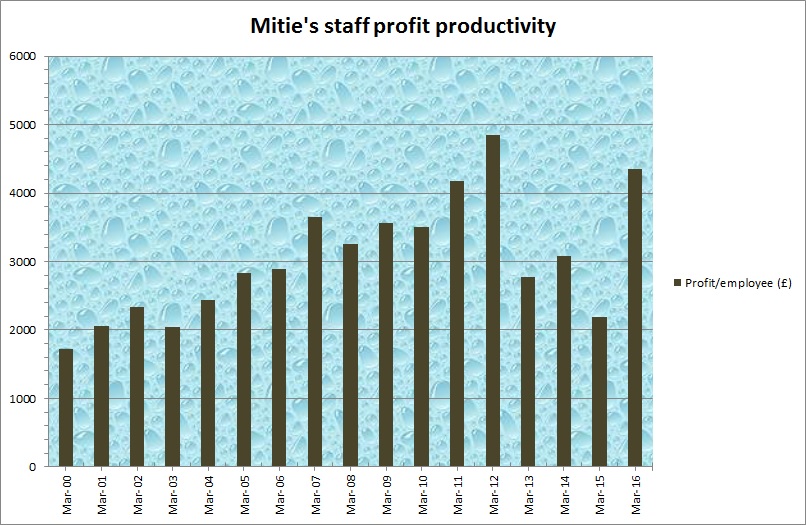 Source: Mitie's annual reports.
Regarding Mitie's profit/employee, it declined to £2k-£3k between 2013 and 2015, before surpassing £4k (though likely to drop next year).
Mitie is streamlining its business and is the right strategy, however, will they continue to cull further employees?
Saturation point is coming home to Mitie
As the saying goes, when you are a "start-up" there is more room to grow, compare to a big mature business, which is becoming of Mitie.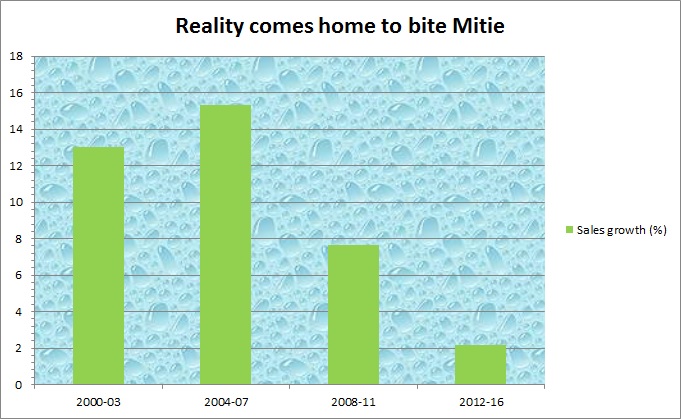 Source: Mitie's annual reports.
The problem for investors in Mitie is where will growth come from if sales continue to slow or become non-existent?
Given the UK huge budget deficits and national debt, one would assume the government is squeezing local budgets, therefore making contracts less profitable.
Despite, the squeeze in local budgets, competitors like Mears, Axis, London Cleaning System to name a few are strong competition.
With slowing growth likely to be a norm, how will this affect investors' sentiment?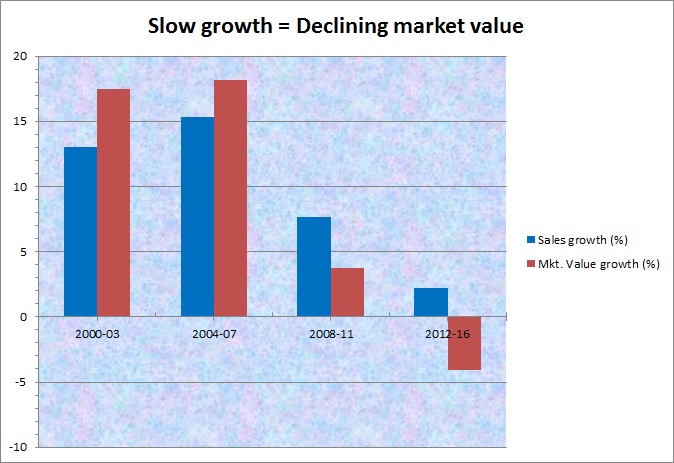 Source: Mitie's annual reports.
Mitie saw positive investors sentiment when sales growth were in the "high teens," but investors turn negative as business prospects reverses.
Though most of the decline came from 2016, as management deliver a series of profits warnings!  
Will Mitie spend big next year?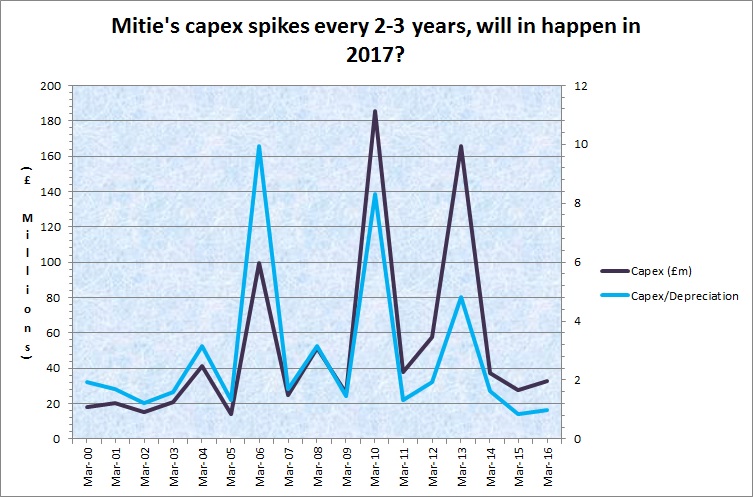 Source: Mitie's annual reports.
Based on the chart, Mitie's capital expenditure pattern is to spend big every two to three years to catch up with the business depreciation expenses, plus to grow its business empire.
The last time it spends big is in 2013 with a £165.8m bill (typically it spent £30m-£50m).
But, given its business environment, it may sell off some divisions, though this is not a certainty.  
So, will Mitie spend big in 2017/18? If it does, where will it get the financing?
When valuation comes crashing down
Mitie standard PE ratio ranges around the "Mid-Teens" in the early 2000s (similar to Sales growth), but somehow it manages to achieve PE Ratio of 32 in 2015 when sales growth was non-existent.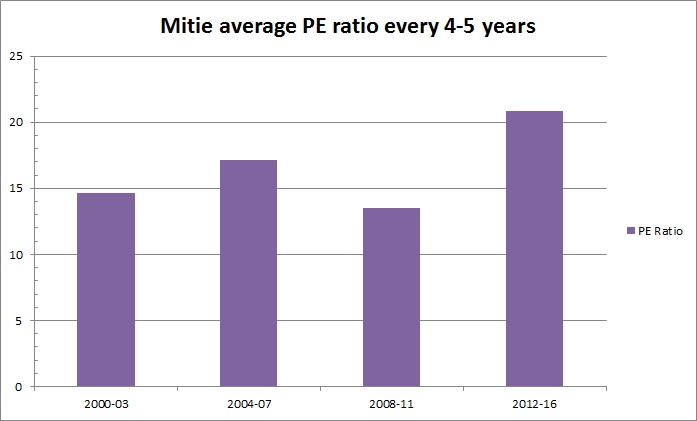 Source: Mitie's annual reports.
However, current PE ratio collapses to 9 times earnings, also its EV/EBITDA is low too.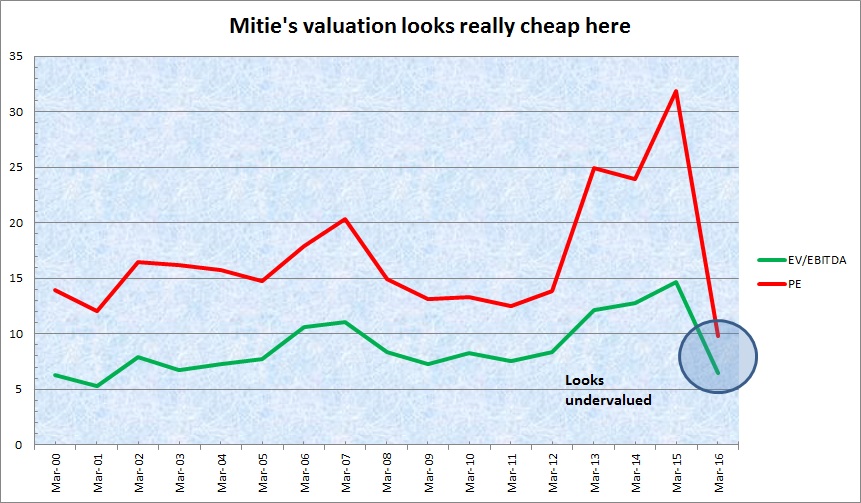 Source: Mitie's annual reports.
So, does it mean Mitie, a buy from these levels?
We don't know because these valuations reflect current financial year performances.
Next year would be different as investors expect a worsening performance, along with "unfavourable" liquidity position (read below).
A deteriorating liquidity position
Mitie used to run several net cash positions in the early 2000s, and now it's deep in net debt position.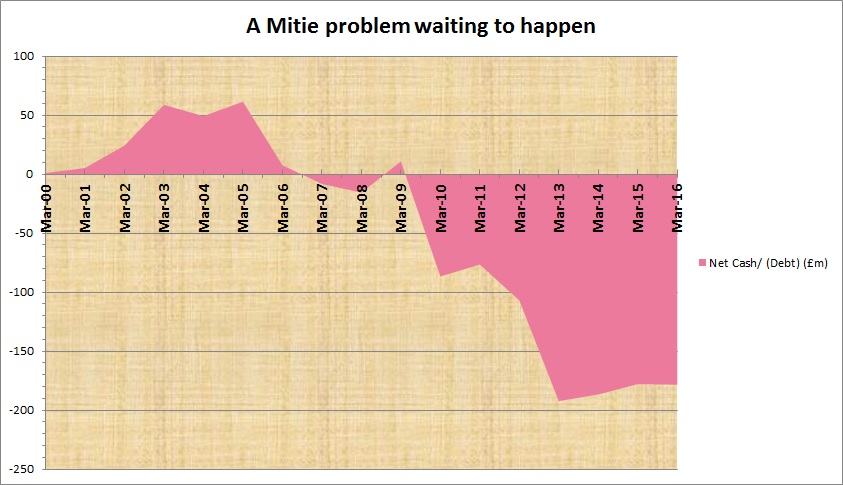 Source: Mitie's annual reports.
The net debt position is worrisome when the business faces a future of declining revenue and, particularly, its net earnings.
So, how will they fund this obligation?
In its latest annual report, the company has undrawn debt facilities of £260m which expires in July 2019, but no mention of debt covenants.
Also, it said hedging some of its USD loans, but these account for 15% of total borrowings.
As stated earlier, Goodwill and intangible has made up a large proportion of total assets.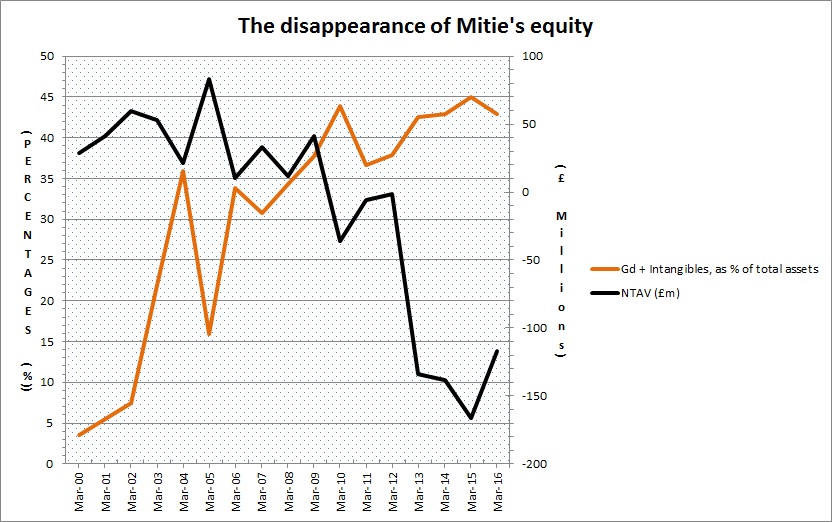 Source: Mitie's annual reports.
By taking out these intangibles, Mitie's entire shareholders' value completely disappeared. In fact, it would report a "negative equity" of £117m in 2016.
Connaught PLC lessons
Before Connaught went bust in 2010, the firm was reporting these financial numbers (see below):



Source: Connaught's annual reports.
But, compare this with Mitie, you see this:

Source: Mitie's annual reports.
It is scary to think that Connaught business shielded from having a large order book and growing operating earnings and shareholders' value in one minute, and the next minute it has gone bust!
When Connaught PLC was under administration, its administrators KPMG assess Connaught value and found 50,000 unpaid invoices at its Leeds office.
Their staffs were unpaid, but management got out away with its bonuses and pay.
However, there are differences and similarities between Mitie and Connaught, these include:
A. The obvious similarity is the growth in net debt for both businesses.
B. But the differences lie in revenue growth and order book growth.
For Connaught, revenue grew by 610% in 8 years, compared with Mitie's 147% (though the same period comparison (2002-09) it grew by 293%). 
C. The second difference is Mitie less aggressive nature in growing its Order Book meaning its management are mindful of the contract value and costs on completion.
On the other hand, Connaught's management went out of its way to winning contracts without having a profit motive. Therefore its aim is to bolster their order book.
Also, you can compare the two companies "order book/sales" data where Connaught is trying to wrap up more business than it could handle.
What next for Mitie's share price?
As you know, Mitie's shares trade below 10 times in PE terms and 6 times in EV/EBITDA.
But, with poor results expected, and if the share price stayed the same, the PE and EV/EBITDA would spike higher because of lower earnings.
Therefore, the share price is likely to drift lower.
More importantly, Mitie has a new CEO coming in, as the old boss leaves the company.
The new boss Phil Bentley, according to Jim Artimitage of the Evening Standard is known for finding "skeletons in the cupboard" and will "kitchen-sink" Mitie's results.
Even though, Mitie's shares have fallen by 45%, a further 25% decline can't be ruled out, if the new CEO decides to blame previous management by making big write-off in assets (notably Goodwill).
So, my Target Price is £1.35 to £1.50/share for Mitie in the short-term.
Disclosure
I wrote this article myself, and it expresses my opinions. I am not receiving compensation for it. I have no business relationship with any company whose stock is mentioned in this article.
Plus, I do not own the stock of the company mentioned, unless stated.


Disclaimer:
By reading my articles and newsletters, you agree to use the research of Walbrockresearch.com at your risk. The purpose of this site is to educate and entertain readers. In no way, we are giving investment advice though the information provided is to my knowledge accurate at the time of the report. You should do your research, or seek advice from qualified professional investment advisors.
---
---

Mitie Group plc is a holding company. The Company is engaged in providing management services. The Company focuses on providing strategic outsourcing services. The Company operates through various segments, including Soft FM, Hard FM and Property Management. The Company's Soft FM segment includes cleaning and environmental services, security, catering and front of house services. The Company's Hard FM segment includes a range of technical, building maintenance and energy services. The Company's Property management segment provides repair and maintenance services in the social housing market. The Company's services include catering, cleaning services, compliance services, custodial services, data center services, document management, electrical inspection and testing, and insurance claims management and repairs. more »

LSE Price