Why the sugar tax is a sweet deal for Tate & Lye, Pure Circle and Whitbread
IB Times Video: Why the sugar tax is potentially good for Tate & Lyle, Pure Circle, Whitbread
In the recent UK budget, Chancellor George Osborne set out plans to introduce a tax on companies producing and importing sugar-sweetened drinks, in a concerted effort to reduce childhood obesity. It will be levied in two bands ? one on drinks containing 5 grams of sugar per 100 millilitres, with a higher rate for those with more than 8 grams. At the higher tax level, this will amount to an extra 24p per one litre of soft drink.
The tax will take effect in 2018 and is targeted to raise £520 million ($733m, €656m), which will be used to fund a programme of after-school sports for the UK's children.
Something needed to be done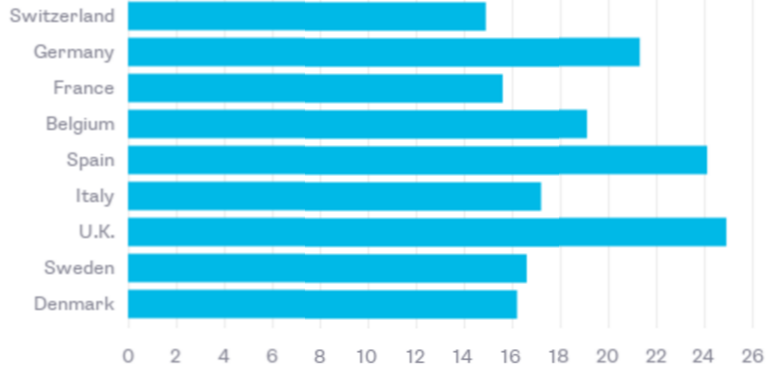 Chart 1: The UK is top of the European obesity charts
UN Food & Agriculture Organisation, 2013
One fact is clear: obesity is already a fast-growing health epidemic in the UK. Obesity and related illnesses, such as type 2 diabetes and heart disease, today cost the National Health Service (NHS) over £5 billion per year.
What is worse, the UK has the highest rate of obesity of any major European country, at almost 25% of the adult population as of the last comparable figures back in 2013 (Chart 1).
The UK is not the first country to tax unhealthy food and drink
Other European countries have already imposed taxes on unhealthy food and drink. Finland put extra taxes on sweets, chocolate and ice cream back in 2011. France introduced a tax on all soft drinks with added sugar or artificial sweeteners in 2012, with an added tax on energy drinks added a year later.
In the US, the states of New York and California both introduced taxes on sugary drinks in 2014.
A sugar tax worked in Mexico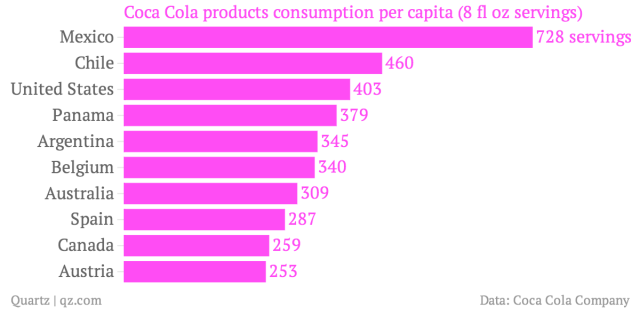 Chart 2: Mexico is by far the largest Coca-Cola market per person
Quartz/Coca Cola Comapny
We can even examine whether the type of soda tax that Chancellor Osborne…

Unlock this article instantly by logging into your account
Don't have an account? Register for free and we'll get out your way
Disclaimer:
My opinions only, not investment recommendations: Please Do Your Own Research
---
---

Tate & Lyle PLC is a provider of ingredients and solutions to the food, beverage and other industries. The Company's segments include Speciality Food Ingredients and Bulk Ingredients. The Speciality Food Ingredients segment's product categories include dairy, beverage, bakery and convenience. The Bulk Ingredients segment's product lines include bulk sweeteners for food and beverage customers, and industrial starches for paper and construction industries. The Company's portfolio of products includes DOLCIA PRIMA Allulose, PUREFRUIT Monk Fruit Extract, TASTEVA Stevia Sweetener, CLARIA Functional Clean-Label Starches, PROMITOR Soluble Fibre, PromOat Beta Glucan and SODA-LO Salt Microspheres. The Company operates primarily in two industries: corn wet milling and sweeteners. The Company operates a network of corn elevator facilities across the United States Midwest. more »

LSE Price

PureCircle Limited is a producer of stevia ingredients for the global food and beverage industry. The Company focuses on encouraging healthier diets around the world through the supply of natural ingredients to the global food and beverage industry. The Company has over 40 stevia-related patents. The Company's Zeta Family ingredients consists of the sugar, such as steviol glycosides, including Reb M and Reb D, and allow for the deepest calorie reductions by food and beverage companies. The Company is engaged in production, marketing and distribution of natural sweeteners and flavors. The Company's geographical segments include Asia, Europe and Americas. The Company is also engaged in the production and marketing of stevia leaf extract. The Company involves in plant breeding, which includes Stevia varieties with sweet glycoside content; harvesting, which provides training to farmers; extraction; purification; application, and finished product. It has offices throughout the world. more »

LSE Price

Whitbread PLC is a United Kingdom-based company, which owns and operates hotels and restaurants. The Company is organized into a single business segment, Premier Inn. Premier Inn provides services in relation to accommodation and food both in the United Kingdom and internationally. The Company's restaurant brands include Beefeater, Brewers Fayre, Table Table, Cookhouse & Pub, Bar + Block, Premier Inn, hub and Thyme. The Company operates over 800 Premier Inn hotels and over 76,000 rooms across the United Kingdom. Its subsidiaries include Whitbread Group PLC, Premier Inn Hotels Limited, Premier Inn Kier Limited, Silk Street Hotels Limited, Elm Hotel Holdings Limited, Brickwoods Limited, Duttons Brewery Limited, and Silk Street Hotels Limited. more »

LSE Price