Why Warren Buffett may be the most dangerous man in finance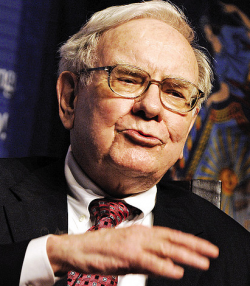 Warren Buffett is a smart guy and has ascended to a near immortal pantheon amongst the investment community due to his superior stock picking skills and boundless wealth. But listening to his views on portfolio management and diversification could cripple your financial health and may make him one of the most dangerous men in finance.
One of the reasons for Warren's fame is his gift for writing simple prose and quotable aphorisms. These snippets of wisdom from the guru have been repeated so many times they are like mantras for amateur and professional investors. But given that our soundbite culture has a tendency to completely remove quotations from their original context and treat them as truths in their own right Warren perhaps should be a little more careful in his choice of words.
Lets have a look at a few…
"Diversification is a protection against ignorance."
Warren Buffett and Charlie Munger became billionaires by betting the farm in size, then betting it again and again. They are the epitomy of investment expertise - educated and mentored by the best minds in the business. For investors of such gifts, a focused portfolio can make sense - indeed other famed investors like Bill O'Neil and Joel Greenblatt might even agree - but given that 99% of Buffett's readership are armchair investors in professions other than finance a quote like is just plain dangerous serving to justify massively oversized betting in speculative stocks. The empirical evidence has proven that individual investors in general suffer from an array of financially crippling behavioural biases including over-confidence, loss aversion and herding - which can be summarised as forms of 'general ignorance'. These biases lead to over-trading, under-diversification and poor market timing and have been shown to cost individual investors $160bn annually. Buffett should perhaps have rephrased that quote "You are most likely completely ignorant, so you'd best protect yourself and get diversified".
"I could improve your ultimate financial welfare by giving you a ticket with only 20 slots in it so that you had 20 punches ? representing all the investments that you got to make in a lifetime."
Is Buffett even sure that most investors get to their 20th investment? While it is true that there is huge over-diversification amongst institutional investors who may have up to 200 stocks in their portfolios, its just not true of private investors.…

Unlock this article instantly by logging into your account
Don't have an account? Register for free and we'll get out your way
Disclaimer:
As per our Terms of Use, Stockopedia is a financial news & data site, discussion forum and content aggregator. Our site should be used for educational & informational purposes only. We do not provide investment advice, recommendations or views as to whether an investment or strategy is suited to the investment needs of a specific individual. You should make your own decisions and seek independent professional advice before doing so. Remember: Shares can go down as well as up. Past performance is not a guide to future performance & investors may not get back the amount invested.
---
---