Will Value Investors sell Clarkson shares?
Clarkson looking ripe for a mini selloff. 
Clarkson, a well-run company, it has broken past the £1bn mark, a ten-fold increase in eight years. Today, I will be investigating if the shares have legs to run or has it overshoot too far on the upside?
What does it do?
Clarkson is a world-leading provider of integrated shipping services.
Their main division is broking and Clarkson helps to negotiate new shipbuilding, the "buying and selling" process and services on recycling old ships. Broking contributes 76% of all sales and 74% of profits in 2016.
Clarkson next biggest and fastest growing division is their financials. Anything to do with financing deals, advisory and funding. The growth contributes 13% of revenue and 12.6% in profits in 2016.
Lastly, the remaining 11% of revenue belongs to their research division and its declining support division.
3 reasons why the market like Clarkson
1). Dividend Growth; - Dividends have consistently grown from 15 per share in 2001 to 73 pence per share in 2017. It's a growth rate of 13%.
2). U.S. and China Infrastructure spending; - When US President Donald Trump got elected, he promised to build a wall and spend $1 trillion on infrastructure. That means more raw materials imports leading to demand more shipping cargoes.
Also, China's One Belt and One road grand project to revive the ancient silk road is another mega project that experts predict $900bn in spending.
3). Bull Market; - When the markets move high, companies with growing earnings tend to see their share price rise. It also leads to higher company's valuation, even if earnings growth stall.
The question every investor wants to know is: "Has Clarkson's Valuation got ahead of themselves?"
The Answer is Yes!
Here is the research below.
5 Reasons why Clarkson valuation looking too high
First, is the dividend.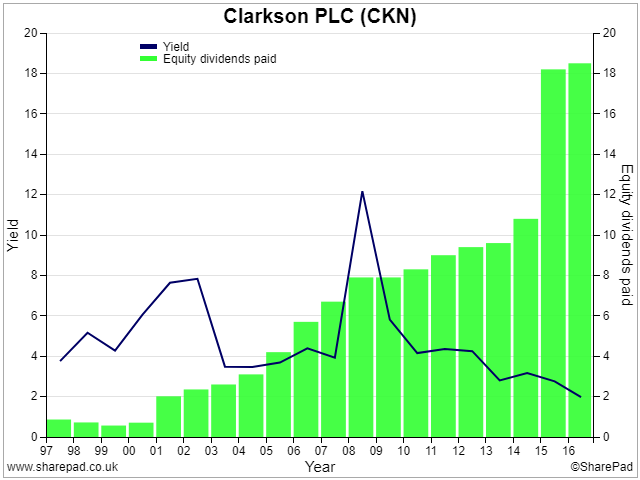 Then again, you can justify low dividend yield due to low bond yield, when high-yields are hard to come by.
Clarkson continues to increase payout to £20.1m or 73p per share making it the 15-consecutive year of dividend increases. Still, the yield is no better at around 2%!
Second, high market multiple.
A look at both PE Ratio and EV/EBIT showed the…

Finish reading with a 14 day trial
Already have an account?
Login here