Wyckoff Campaigns Post #2 - US Utilities #1
By Jack Corsellis Content Contributor at wyckoffanalytics.com - 27 June 2019

Did you know Utilities have outperformed Tech and the S&P 500 since the turn of the century?  See the chart below comparing XLU (blue), XLK (green) and the SPY (red) ETFs.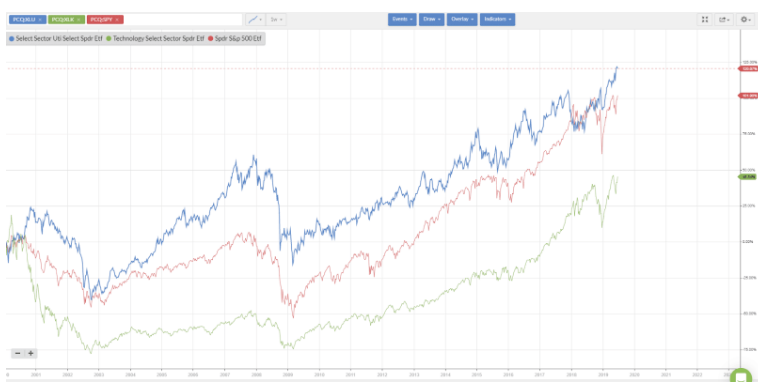 Chart courtesy of Stockopedia.com
I want to keep this post focused on analysing price structures.  However, I think it's important to briefly touch upon several developing economic points; both of which are linked and will affect the Utility Sector. 
Firstly, the market is expecting a US Federal Reserve rate cut with near a 100% probability in July 2019.  We've seen continuing reductions in bond yields and therefore bond proxies, such as Utilities, tend to perform.  This is because Utilities are a strong preference for investors seeking a dividend yield in a historic low volatility and low beta sector. 
Secondly, I think an earnings recession later in 2019 is likely.  The data shows growth peaked in 2018 (when the economic cycle peaked too) with S&P 500 aggregate earnings growth on a YoY basis slowing from:
Q3 '18 = 24.2pc

Q4 '18 = 12.6pc

Q1 '19 = circa 1.5pc
The Q2 '19 and Q3 '19 numbers will be the hardest YoY comparisons.  In the early 2000s growth slowed in a similar fashion; the S&P 500 lost circa 50% of its value and the NASDAQ lost circa 80% of its value.  This happened without a technical recession.  Also, to note, do not be surprised to see an ISM number below 50 in the summer months. 
If requested I will go into more detail regarding the economic outlook and the data in future posts.  However, for now, probabilities would suggest in an interest rate cutting environment Utilities will perform well.  Furthermore, during a slowdown in economic growth and 'flight to safety' Utilities should also perform well.  This post will focus on US listed Utility companies applying the Wyckoff Methodology.  Our goal is to select optimal entry points in these companies and see if the above thesis plays out over the coming months.  I'll continue to update the charts, and produce videos, to discuss what lessons can be learnt.  
Below are 14 charts, all of different companies analysed applying the Wyckoff Methodology.  Notice on a purely structural basis, the level of similarities and how often these structures repeat.  Why do these structures continue to repeat?  Because human nature…

Unlock the rest of this Article in 15 seconds
Already have an account?
Login here