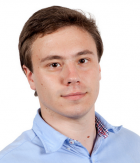 Twitter: @ANaamani1989
Fantasy Fund: Ansawdd Gwerth Momentwm
About Me:
I work as a Financial Analyst at Stockopedia. As well as contributing to regular site editorial, ebooks and guides - my research contributes to our growing financial databases and product development. The goal is always to help private investors manage their own portfolios and beat the market in the process.
I have passed the CFA level 1 exam.
Alex Naamani's Latest Blogs
Alex Naamani's Latest Comments
Alex Naamani's Top Awards
136
Alex Naamani has 112 followers including:
and 104 more.