Real Name: Ben Hobson
Occupation: Journalist
Interests: Stocks
Twitter: @BenJamesHobson
Fantasy Fund: Ben's Fund
About Me:
Strategies Editor at Stockopedia. My goal is to help private investors learn and invest with confidence through the articles, ebooks and other resources we publish on site. I also occasionally bunk off to interview famous investors at expensive restaurants. I studied History at Aberystwyth University, trained as a journalist and covered business news and corporate finance before settling in as one of the first staff members at Stockopedia. Away from Stockopedia I'm a mountain bike junkie.

Investment Research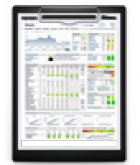 Stockopedia provides over 8000 Stock Reports that provide the key metrics that the fundamentally oriented investor needs to know to make actionable decisions.
Find out More »
Ben Hobson's Latest Blogs
Ben Hobson's Latest Comments
Ben Hobson's Top Awards
705
Ben Hobson has 1079 followers including:
and 1071 more.