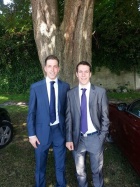 Real Name: Ben
Occupation: Analyst
Interests: Economics, Stocks
Location: Berkshire
About Me:
Insurance professional working for a Euro Stoxx 50 company as a Portfolio Analyst. I have studied the stock market for over a year prior to making my first trade in 2016. 
Investment Strategy
I tend to buy...
according to my system
I hold for...
a few months
Diversification is ...
essential to reduce risk
My investment strategy is to buy stocks: 1) Trading below their intrinsic value. 2) Strong upward price momentum. 3) Small/Micro capitalisation. 4) High dividend yield.
Following Ed Croft's post "StockRanks return over 100% in 4 years... how have you got on?" on 15 February, I noticed a few comments which asked investors who use the Stock Ranks, to publish their screens and rationale. Therefore, I want to share my own Stock Rank screen with the investing community here at Stockopedia.Value & Momentum, which has been described as the "Holy Grail"…
In the last few months, I noticed a number of stocks, mostly small caps, have received approaches/bids by larger companies. Examples include:Punch TavernsAvescoe2v TechnologiesCrestonLavendonSkyJourney GroupOn each occasion, I have been kicking myself because I have cast my eye over each stock but decided not to invest. So this got me thinking... how can I improve my chances of finding a stock which will rocket in…
BH1991 has 10 followers including:
and 2 more.