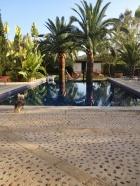 Real Name: Deborah
Occupation: Private Investor, Trader
Interests: European Markets, Geopolitics, International Stocks, Stocks, US Market
Location: Palma De Mallorca
Twitter: @debsmac17
About Me:
Positivity is my thing, so the Glass always half full. My road bike is my sanctuary and a G & T at Sundowners makes me smile. Equities is my addiction and feeds my inquisitive mind. My family are my best friends and teach me that every day just gets better and time isnt for wasting. None of this would have been possible without my one man, so I thank you Dee for allowing me to live this dream every day.
looking at these shares once again, i got caught with my trousers down on them a few years ago... and still have them. but i see there is a Dividend coming soon and i am hoping they are finding their base now... str res at 50 but wont buy until the MACD is above 0 on a buy signal. any thoughts anyone... help me out…
Debsmac's Latest Comments
Wouldnt that be a great thing... have been looking for a publication specialising in european shares... but no luck yet. you just have to get good at your detective work. Maybe google it, that sometimes helps. I will have a look later if i can.
I totally buy into what you are saying... the whole sector is having the hardest time. Margins are so tight with the aldi and Lidl stores increasing.... but is this just a two horse race? Does SBRY not come into this? its price has been dragged down with the others but it has always had very respectable results Q on Q.
I too, think J Sainsbury (LON:SBRY) has the most short to med term recovery ahead...i will be out at @ 400. then i think its anyones but these big guys. Smaller supermarkets are leading the way and these cut price Lidl and ALdi. I have always been a decent investor in both Tesco (LON:TSCO) and J Sainsbury (LON:SBRY)... now i just have J Sainsbury (LON:SBRY).…
debsmac has 0 followers :