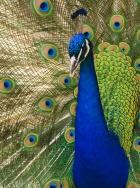 Real Name: Darron Preston
Occupation: Fund Manager
Interests: Asian Markets, Commodities, Economics, Emerging Markets, European Markets, Geopolitics, Gold, International Stocks, Oil, Private Equity, Stocks, US Market
Location: Ledbury
Twitter: PrestonDarron
About Me:
One of the 80's "Barrow Boy" recruits to the City. Odd choice for someone who always wanted to be a submariner with a leaning to sonar.
Never went to a uni and my love of economics and fascination with the City (who else would be sad enough to be reading the FT on the school bus at 13 and trading shares using their father's name?) was enough to see me through.
Decided I didnt like London - hate it in fact and so stuck to the provinces with one of the big private banks. Then in '94 saw an opportunity to set up a discretionary portfolio management outfit for a firm of lawyers and have never looked back. Okay the salary may not compare (certainly doesnt) but then again, quality of life is all that matters, especially now I have four kids. The start of 2012 saw quite a change for us, with Aventus joining European Wealth Management Group, and so we are now European Investment Management where I am head of Equity Research.
Left European Investment Management (aka KW Wealth these days) and am now with LW Consulting in Ledbury.   Going back to focus on the clients rather than the modern trend of clients being pushed through the sausage machines. 
Fund Management

As advisers who are regulated by the Financial Services Authority we have the specific needs of clients in mind when recommending the best strategy.  We appreciate that clients have different attitudes to risk, specific objectives and various tax issues to consider. From the start of our relationship with you we value the importance of effective communication and we will take time to understand what you want to achieve before presenting you with our recommendations. Keeping you informed of how your portfolio is performing is critical to the way we do business. We pride ourselves on being approachable and readily available by phone or email should you wish to contact us. It goes without saying that, wherever possible, we will abandon financial jargon for the sake of plain English. We go to great lengths to provide our clients with a bespoke investment portfolio that we believe is best suited to their individual needs. In order to achieve this, and to understand fully our client's objectives, we take time to interview our clients in-depth, completing a questionnaire that is designed to obtain salient facts and to discuss, in detail, the difficult question of risk tolerance. All investment carries risk and it is important to establish a mutual understanding of the risks involved in different asset classes. From here we will agree an acceptable level of risk with you that will be used as a benchmark to manage your future portfolio.  
Find out More »
Djpreston's Latest Comments
djpreston's Top Awards
13
djpreston has 367 followers including:
and 359 more.