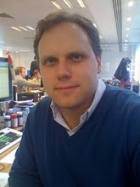 Real Name: Daniel Lacalle
Occupation: Fund Manager
Interests: Oil, Stocks
About Me:
Fund manager in Oil,Gas and utilities. I was voted Number 1 Pan-European Buyside Individual in Oil & Gas in Thomson Reuters' Extel Survey 2011, the leading survey among companies and financial institutions. More than 21 years of experience in the oil, gas and utilities fields from corporate to investment banking, research and fund management.
Blog

The Hottest Topics in Oil & Gas, Utilities, Geopolitics and Commodities Discussed In Depth.
Find out More »
Dlacalle has 33 followers including:
and 25 more.