Occupation: Research House
Interests: Stocks
About Me:
Equity Development became the first regulated provider of sponsored analysis in 1996 and has remained the market leader ever since. Working closely with their clients they communicate a company's message to the desired target audience and enhance their comparative rating.  The trust and breadth of its distribution has been built up over many years and its readership includes fund managers, brokers, investment banks, corporates, high net worth individuals, their analysis is also carried by a number of the global information carriers. All their analysts are FSA accredited, have on average over 20 years experience and cover all sectors.
They have worked with 300 corporates and their clients range in size from those in the private sector, Plus and AIM quoted companies, to Main Market corporate giants. Their global client base has benefited from additional objective quality research. Statistical analysis has proven that coverage of quality does help a company's comparative rating.
Register now to receive our research by email.
Investment Research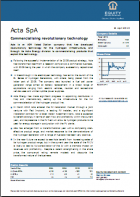 Equity Development provides investors with the latest reports on exciting growth companiesm  including insights into companies by regulated analysts with over 20 years experience in order to help you maximise your returns. Equity Development's reports contain: Valuations (Current & Projected) Market Analysis Funding History Management & Strategy Product & Revenue Financials & Forecasts
Find out More »
Equity Development's Latest Blogs
Equity Development's Top Awards
2
Equity Development Followers
Equity Development has 369 followers including:
and 361 more.