Occupation: Broker, Research House
Interests: Stocks
About Me:
Formerly known as Hoodless Brennan plc, HB Markets plc provides. advisory stockbroking, research and analysis, CFD and Spread Betting services. The company is focusing increasing attention upon designing, building and delivering new products and services including those required by the corporate and small business sectors.
The name change was the result of a major review of the company's future business strategy following changes at senior management level and following the sale of Hoodless Brennan's multi-award winning online share dealing service to TD Waterhouse Investment Services Ltd.
We are authorised and regulated by the Financial Services Authority and are members of the London Stock Exchange, PLUS Markets and APCIMS.
Investment Research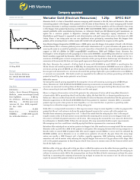 HB Markets Research Department produce stock updates and company reviews on a daily basis. This information is delivered to our advisors before the market opens each day. More importantly it is accessed by our clients every day. Clients are able to download company research notes directly from our website. We cover a broad base of sectors and industries, and our analysts use both technical and fundamental analysis to review individual companies.  
Find out More »
HBMarkets has 269 followers including:
and 261 more.