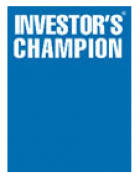 Occupation: Research House
Interests: Stocks
Twitter: Investchampion
About Me:
Investor's Champion offers objective, incisive and forthright comment on quoted companies. Our commentaries address what we believe are the key issues in respect of each company in a concise easy to read format.
Investment Research

Investor's Champion supports companies and investors alike with objective, forthright commentaries on quoted companies. Our service was established on two core beliefs: that small companies could benefit from better coverage - and that investors could benefit from more regular, objective commentaries upon those same companies. Our objective commentaries pull no punches, drawing the readers' attention to key areas of importance. We do not waffle unnecessarily. Our reputation has been established by straight reporting on the good, the bad and the downright ugly. Investors find our notes easy-to-read, informed and an invaluable aid to investment decision-making. We never push our readers to 'Buy' or 'Sell' a particular share, we merely draw attention to the key issues in respect of each stock, helping him or her to make an informed decision. Sign up here to be notifed by email of any new research.
Find out More »
investorschampion's Top Awards
3
investorschampion Followers
investorschampion has 682 followers including:
and 674 more.