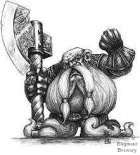 This space is reserved for LongbeardRanger to introduce himself.
Investment Strategy
I tend to buy...
after much research
Diversification is ...
essential to reduce risk
I focus on high quality companies - that is, companies with high returns on capital, in cash, where I believe there are reasons that those returns can be sustained. My research is a mix of quantitative and qualitative, as I believe a pure focus on financial analysis or quantitative factors can miss certain unusual investment opportunities - for example, investments in industries or businesses where traditional financial metrics are misleading. I am a strong believer in diversification. I currently hold just under 30 shares, and am gradually increasing that number. Partly, this is because I hold a number of small/mid cap shares, and in my view more diversification is needed as you go down the market cap spectrum (as you're holding less internally diversified businesses), so my portfolio needs to reflect that. Partly, it's that I'm sceptical about the confidence level one can have in any individual business. And partly it's behavioural - I react better to bad news/price drops when they're a relatively small part of my portfolio. I don't think I have the temperament to invest in a highly concentrated portfolio as the inevitable drops would cause me to lose my nerve.
LongbeardRanger's Latest Blogs
A few weeks ago I participated in an interesting discussion here about the pitfalls of accruals, and how companies with accruals-based earnings are net underperformers, over time. This creates a big problem if you want to invest in financial firms, who are the "poster boys" of accruals-based accounting.  In this context I thought it would be interesting to take a look at the one financial…
LongbeardRanger's Latest Comments
LongbeardRanger's Top Awards
2
LongbeardRanger Followers
LongbeardRanger has 0 followers :