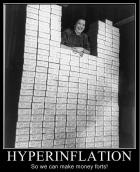 Real Name: Tom
Occupation: Consultant
Interests: Commodities, Economics, Geopolitics, Gold, Interest Rates, International Stocks, Oil
Location: UK
About Me:
Sh*t hot Software Engineer, with bells. Well into Austrian Economics and libertarian philosophy.
I'm very bullish on Silver at the moment (gold was so last decade), very bearish on the Fed, BoE, BoJ and US/UK/Jap sovereign debt.
Mainly invest in Silver, Gold miners, and O&G.
Investment Strategy
I trade...
a few times per year
I tend to buy...
on instinct
Diversification is ...
a hedge for ignorance
1. Understand how the world works.
2. Check where the wind is blowing geopolitically, thermodynamically (finite planet don't you know), technologically, and socialogically,
3. Invest accordingly.
4. ???
5. Profit..
"Only two things are infinite, the universe and human stupidity, and I'm not sure about the former..."
Macroeconomix's Latest Blogs
Macroeconomix's Latest Comments