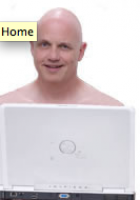 Occupation: Journalist, Market Professional
Interests: Stocks
About Me:
My name is Robbie Burns and I have been a successful trader for more than ten years. I've also written the book "The Naked Trader" which turned into a best seller. The first edition was published in 2005 and the follow up second edition in late 2007. I also wrote "DIY Pension" column for the Sunday Times for 3 years which chronicled how I doubled the money in my pension scheme.
Website

My website, The Naked Trader, is simply a "diary" of my life, or what you would now call a "blog". It was created after I left my full-time job as a finance editor for BskyB to trade full-time. I had been writing an diary page for its teletext service since 1998 and decided as I was leaving to transfer that to the internet. I detail what I've bought, sold or shorted and briefly why. I use various spreadbetting companies and stockbrokers to carry out the trades. I ignore commission but also dividends and I reckon the two balance each other up. If you'd like to buy a copy of my latest book, The Naker Trader 2, please click here. If you'd like to attend one of my seminars, please click here.
Find out More »
Robbie Burnsie has 108 followers including:
and 100 more.