Occupation: Newsletter Writer, Trade Association
Interests: Stocks
Location: London
About Me:
ShareSoc is dedicated to the support of individual investors. Our aim is to make and keep you better informed so as to improve your investment skills, and protect the value of your investment. We won't shirk from tackling companies, the Government or other institutions if we think you are not being treated fairly.
Newsletter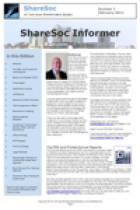 The ShareSoc Informer is the monthly newsletter of the UK Individual Shareholder Society.  There is a real need to encourage direct investment in the UK stock market, but individual investors will be discouraged if their rights and needs are ignored.  One reason why ShareSoc was formed was to ensure that there is more active representation of your interests to government, companies and other institutions.  Sign up for the newsletter at the ShareSoc website.  http://www.sharesoc.org
Find out More »
ShareSoc's Latest Comments
ShareSoc has 23 followers including:
and 15 more.