Real Name: Steven Dotsch
Occupation: Publisher
Interests: Commodities, Stocks
Location: London
Twitter: @Investoretire
About Me:
Steven is the editor of Dividend Income Investor.com and publisher of the Guide to Dividend Investing.
Dividend Income Investor.com provide savers, investors and (future) retirees with concise information when dividend paying shares are historically under- or overvalued.
Dividend Income Investor.com's investment strategy is aimed at maximising total returns by providing timely information to subscribers on when a dividend paying company is historically undervalued. Focus is on sound stock selection and the ability to recognise value using dividend yields in order to identify undervalued and overvalued shares.
As part of the Dividend Income Investor.com premium content offering, subscribers have exclusive access to Dividend Value Profiles of companies whose share prices are historically undervalued, as well as occassional Dividend Income Reports. and DII Snapshots. The latter are mini reports based on exactly the same valuation methodology used for our Dividend Value Profiles and Dividend Income Reports with concise information whether a dividend paying company is currently historically undervalued, overvalued, or, somewhere in between.
We have also put more than £75,000 of our own money behind our dividend income investment strategy creating the Dividend Income Portfolio which over time will invest in up to 30 dividend paying companies in order to create a diversified and increasing stream of tax-free dividend income.
Steven Dotsch said "In the current climate of low interest rates, increasing inflation, and huge budget deficits now more than ever individuals need to take responsibility of their finances in making sure that they can afford to retire when they want to. By empowering individuals with the right information on how to build a portfolio of high quality dividend paying companies which consistently increase their dividends they can safeguard their futures."
Steven Dotsch - Managing editor - http://www.dividend-income-investor.com - For an example Dividend Value Profile click: http://www.dividend-income-investor.com/british-american-tobacco/
Investment Strategy
Book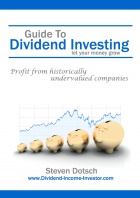 The Guide details a straightforward system of investing in high quality blue-chip companies with reliable dividend histories and prospects. The Guide discusses when to buy and sell a company's shares when its dividend yields instruct you to do so.
Find out More »