Real Name: The Oil Council
Occupation: Trade Association
Interests: Commodities, Geopolitics, Oil, Stocks
Location: London, New York
Twitter: TheOilCouncil
About Me:
The Oil Council is a world-leading business network for upstream oil and gas executives. We promote knowledge and thought leadership across the E&P industry by providing informed commentary, cutting- edge analysis and market intelligence. Through annual Assemblies and e-media, we bring together influential executives to tackle key business challenges, champion best practice, develop strategic partnerships and encourage new business development while showcasing new investment opportunities.
World renowned Steering Committees guide the strategic direction of The Oil Council, helping us deliver real value to you – our Partners and Members. Membership reads like a "who's who" of the E&P industry, and includes leading oil and gas company executives, bankers, brokers, analysts, investors, advisors, suppliers and service providers.
Our annual calendar of executive-level Assemblies provides our Partners and Members with unparalleled access to the key stakeholders within the E&P sector. Through unique interactive networking tools they provide first-hand opportunities to share ideas and discuss key business issues face-to-face in a series of engaging and entertaining business forums.
We speak directly with chief officers, corporate executives, deal makers and expert commentators to provide exclusive content and topical insight through our free monthly 'Drillers and Dealers' e-magazine and online via our unique 'knowledge-based' website.
E-Magazine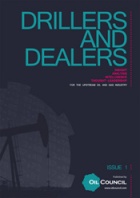 'Drillers and Dealers' is our monthly e-magazine for the oil and gas industry. It entirely focused on sharing insight, analysis, intelligence and thought leadership across the E&P sector. The e-magazine is free to subscribe to and offers both market professionals and beginnings cutting-edge insight on current market trends, challenges and opportunities. To receive free future editions of Drillers and Dealers delivered directly to your inbox each month (as well as other content-led features and benefits), click here. Our authors and columnists are respective executives from the oil and gas community. Over the course of this year, Drillers and Dealers will contain insightful articles, reports and commentary looking at general market trends and also more focussed content on: Corporate Governance Economics & Pricing Exploration Finance & Tax Independent Oil & Gas Markets Investment Legal & Compliance Issues Risk Management
Find out More »
The Oil Council's Latest Comments
The Oil Council's Top Awards
9
The Oil Council Followers
The Oil Council has 578 followers including:
and 570 more.