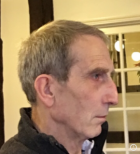 Real Name: William Konarzewski
Occupation: Consultant anaesthetist
Interests: ETFs.
Location: Colchester UK
Twitter: konarzewski1949
About Me:
Retail investor. Spread bettor.
Investment Strategy
I tend to buy...
according to my system
Diversification is ...
essential to reduce risk
Buy and hold mainly for ISA. Recently moved all my non-ISA investments into a spread betting account. Dollar average after small initial investment. Use leverage on low risk assets. Trade US markets virtually exclusively.