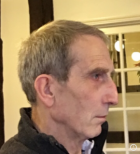 Real Name: William Konarzewski
Occupation: Consultant
Interests: Asian Markets, Emerging Markets, Funds, Property, Stocks, US Market
Location: Colchester UK
About Me:
I'm a semi-retired doctor managing a modest share portfolio for my wife and myself since December 2015. Our portfolio is well diversified with about 75% in funds and 25% in equities. Since starting my annual return compounded is 11.4% (as on 31st July 2019).
I am an avid reader and spend much of my spare time reading the writings of the great investors like Benjamin Graham, Jess Livermore, Warren Buffett and Peter Lynch. In particular, the psychology of investing fascinates me.
Investment Strategy
I tend to buy...
according to my system
Diversification is ...
essential to reduce risk
This is probably best described as value investing although my strategy is still evolving and I sometimes speculate on small companies.
In view of a possible recession and bear market, I'm currently trying to construct a portfolio that will hold up better than a 100% UK based equity portfolio. My horizon is 5 years. Some of my ideas have been borrowed from the Yale University Endowment Fund which has achieved spectacular results over the last 25 years. The asset allocation I've decided on is: Individual equities…
Wilkonz's Latest Comments
wilkonz has 1 follower including:

AnonymousU…