If you aren't using Stock Screening to aid your investment decision making, then you are likely to be at a considerable disadvantage for a number of reasons. Firstly, screening allows you to search the market for candidate stocks in seconds rather than the days or weeks it would take to do manually. Secondly, a screener helps you to be structured about identifying stocks that meet strict criteria - rather than just haphazardly investing in whatever stock someone else says looks good at the moment!
To succeed long term, not only do you need a sound strategy, but you must also be able to follow a strategy throughout the emotional roller-coaster ride that Mr Market offers. Instinct, prevailing market opinions, and conflicting views of market commentators can put an emotional spin on your decision-making process. Applying a quantitative methodology like screening helps to overcome our innate behavioural biases.
What screening is not is a substitute for independent research reflecting your individual criteria for investing/trading. It helps to narrow a search based on pre-defined criteria, but you should consider the results of any screen as candidates for further research, not as a buy list.
You can watch a video introduction to the Screening here.
Using the Built in GuruScreens™
We recognise that creating a custom screen may seem intimidating to investors who may not have time to adequately research and create their own strategies. As a starting point, we have modelled dozens of investment strategies developed by some of the greatest investing minds of the last 50 years, both famous practitioners such as Benjamin Graham or Rowe Price as well as cutting edge academics such as Josef Piotroski and Narasimhan Jegadeesh. These approaches range far and wide, from value-based screens to those that focus primarily on dividend income, some are geared toward large-cap stocks, while others focus on small-caps. Needless to say, the characteristics of these stock investment approaches vary widely (and are contradictory in some cases).
Screen Categories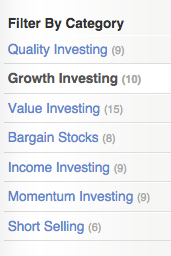 There is a lot of blindness in the market regarding fabled investment strategies and our goal is to validate and discover which strategies are the most effective in all markets. In this aim the screen landing page allows you to navigate our modelled screening strategies by category, guru or by the historic risk / return characteristics. For ease of navigation, thes buckets are all available as links in the sidebar on the screening page. Click a link in any of these categories to browse the screen results :
Explanation of each Screening Strategy

At the top of every screen result page there are a set of 'tabs' that provide extra information for the screen in question, specifically a brief explanation of the screen, a link to the original source materials (which may be an Amazon link to the book or a link to the original Research paper if not) and a full list of the investment rules that we have modelled to generate the results. By clicking over these links you can quickly understand the risk factors and history of the strategy in much greater detail.
Performance Tracking

In order to validate the viability of a screen's criteria its risk and returns are tracked each day. The charts and tables in this section give an immediate overview of how a strategy has performed over time. We build a portfolio of equal weighted positions across the top 25 candidate stocks for each stock screen and rebalance the portfolio quarterly. Frictional trading costs are not taken into account which allows clearer comparison of risk factors across screens. Please note that the reported returns in this segment are for a basket of stocks and that historical performance is not an indicator of future returns.
Qualifying Shares

The final segment on the screening page lists all the qualifying shares for the screen in question. These shares pass every criteria for that screen and are ordered according to the default sort property of that screen (for example, in order of ascending PE Ratio). While these lists are categorically not 'buy lists' they are good starting points for further research into individual companies.
The default view for each screen includes as columns all of the criteria that were used to create it, and each column is 'clickable' allowing you to resort and navigate the data. The tables show company summaries when hovering over the company names and by clicking you can head straight through to the relevant Stock Report.
Alternative Table Views
At the top of the qualifying shares table, you can find a navigation bar that allows you to switch to several different pre-loaded views. These views load different columns for the screen results - allowing you to zoom in on value factors, performance history, momentum indicators and more. You can even create or edit your own table views with whatever ratios you choose.
Which Screen is right for me?
Only you can decide that! It is important to understand in depth the risk profile and return characteristics of any investment approach you are using. By reading the background and browsing through the screen lists generated, you can get a good sense for the kind of companies that a screen favours and any industry/risk concentration that a given screen may generate.
When determining which screen(s) you might want to follow, it's worth asking yourself the following questions:
Does the screening approach match my individual needs and risk tolerance?
Is this style of investing more suited to bullish or defensive market conditions?
How is this screen likely to react relative to the current market environment?
What is the proper benchmark to measure the performance of this screen (in terms of market capitalization, industry concentration, growth vs. value)?
How frequently does the list of qualifying companies change?
Most importantly, remember that screening is just a first step on a journey. There are qualitative elements (e.g. the calibre and honesty of the management team) that cannot always be captured effectively by the quantitative screening process that we describe. Detailed fundamental analysis of any stock you are considering for purchase is important for successful investing.
How can I build my own Custom Screen?

In addition to the Built-in Screens, we allow users to screen the market themselves using an ever growing variety of different ratios. You can see a full list of the Screenable ratios in the accompanying Glossary.
The concept is simple. The screener allows you to enter criteria such as market cap, dividend yield, P/E ratio and so forth and to sort the results as desired.
After you put in all the criteria, the screener looks at all the companies listed on the market and pulls out those that meet your qualifications.
The result will be a list of qualifying companies - if the list is too large, you can run the screen again with tighter qualifications to reduce the number of hits.
Coming Soon - the ability to track and publish the performance of your own sets of screening criteria.
DYOR !
Please keep in mind that the screens here are our interpretations of the investment approaches advocated by these strategists. While we have attempted to derive a practical set of criteria underlying each approach, these screens are only the first step. We recommend that you read the books yourself and always do your own research.