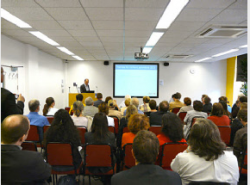 ShareSoc is pleased to announce the second in a series of technology company focussed seminars exclusive to ShareSoc members. The event will take place on the 2nd of October in the City of London with registration commencing at 5:30 pm. Three companies will be presenting and answering your questions:
- Armour (LON:AMR) : the UK's leading consumer electronics group within the home and in-car communication and entertainment markets.
- Ideagen (LON:IDEA) : a supplier of compliance based Information Management software with operations in the UK and the United States.
- Regenesis (:RGN) : With its core business in repairingconsumer electronics, Regenersis helps companies like HTC, Nokia, Samsung, Orange, Virgin Media, Telefonica, Toshiba and others deliver the best possible after market service to its customers.
Refreshments and a finger buffet will be provided free of charge, over which you'll be able to have one-to-ones with directors of the presenting companies. After the event, we'll be adjourning to a local hostelry (details to follow for attendees), for a great opportunity to socialise with your fellow investors and discuss these and other investment opportunities.
Pre Registration Required for Admittance
To pre-register for the event, please complete the form here: http://www.sharesoc.org/techseminar.html If you are not currently a member, you will be granted associate membership by pre-registering. Once registered, we will forward venue details. If you would like to attend, you must pre-register from that page. Please do not hesitate to contact us if you have any questions on this event, at info@sharesoc.org or phone our office on 020 8467 2686.
Date
5:30pm Wednesday 2nd October, 2013
Location
FinnCap, 60 New Broad St, London
Postcode
EC2M 1JJ
Export to your Calendar
Attendees Confirmed (1)
---
---
---

OneView Group plc, formerly Armour Group Plc, is a holding and investing company. The Company is engaged in the development and sale of cloud-based software products for use in retail estates. The Company's segments include OneView Commerce and Unallocated central costs. Its OneView Commerce segment is engaged in licensing of software and providing the related consulting, support and other services related to the software sold. The Company has operations in the United Kingdom, the United States, the Netherlands and Germany. Its subsidiaries include OneView Commerce Inc., Armour Automotive Group Limited, Enactor Americas and OneView Commerce DE GmbH. OneView Commerce Inc. offers Oneview Digital Store Platform, a cloud-based platform that provides associates with access to an omni-channel view of customers, orders, inventory, detailed product information and reviews. Oneview Digital Store Platform offers Point of Sale (POS), OneView Inventory solution and OneView Promotions Engine. more »

LSE Price

Ideagen plc is engaged in the development and sale of information management software to businesses in various industries, and the provision of associated professional services and support. The Company is engaged in supplying governance, risk and compliance (GRC) solutions primarily to the healthcare, transport, aerospace and defense, manufacturing and financial services sectors. The Company' GRC portfolio includes products, such as Academy, Gael Enlighten, Gael Risk, Pentana, Proquis and Q-Pulse. Its healthcare software solutions include DartKW, which is an electronic medical record (EMR) software; PatientFirst, which is an emergency department management system; dartPortal, which is a clinical portal; dartOCM, which offers order communications; dartQScan, which provides document capture; darted, which offers healthcare document management, and Q-Pulse, which provides quality and safety management. It has operations in the United Kingdom, the United States and the Middle East. more »

LSE Price