China Shoto (LON:CHNS) - Low tech, low growth, high pollution - it all comes a cropper
Jun 22nd 2010 - Investorschampion today published a report on China Shoto (CHNS.L, LSE:CHNS, LON:CHNS) entitled "Low Tech, Low Growth, High Pollution - It All Comes A Cropper". In summary, the report says:
Signs of a slowdown in China and increased competition overseas - the valuation looks cheap and seemingly for good reason.

The leading Chinese battery producer and the largest supplier of back-up batteries to China's telecommunication operators came out with what amounts to a fairly disturbing AGM statement, disturbing at least to those who assumed it was onwards and upwards for everything China related!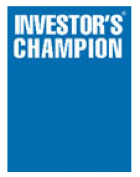 Investor's Champion offers objective, incisive and forthright comment on quoted companies. Our commentaries address what we believe are the key issues in respect of each company in a concise easy to read format. more »