A checklist approach to finding bargains with Ben Graham's deep value rules
Is value investing dead?

That's a question I've seen crop up a few times recently (and in recent years) in the financial press on both sides of the Atlantic. The quantitative answer is that value isn't dead, but rather goes through spells of underperformance. It just seems that the past decade has been a particularly barren spell.
Here's a chart that casts some light on what the trends have been: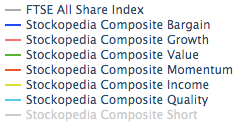 These are the composite performance figures of the different Guru Screen investment styles that we track here at Stockopedia - Bargain, Value, Income, Quality, Growth and Momentum.

You have to be careful about extrapolating too much from this kind of chart. But it's pretty clear that Growth and Momentum have been very much in favour in recent years. Value… not so much.
Value and Momentum are very different styles of investing, but they're also very connected. To borrow a turn of phrase from an OSAM paper last year, with Momentum, a stock will move from fair value to slightly overvalued to potentially very overvalued before retracing. With Value, stocks are mispriced and gradually converge on fair value over time. As OSAM say: "Both styles represent a market mistake that can be captured as alpha."
But over the past decade, it has been Momentum that has profited the most. The market has been gravitating to fast-moving growth stocks, and that's has left value investors with very little to go at.
This brings me to an interesting value screen that we track - Ben Graham's Deep Value Checklist. Like a number of the value screens it's had some strong returns at times over the past five years, but the overall performance has been volatile and underwhelming. What makes it slightly different is that it uses a checklist approach to finding cheap stocks in the market.
A different approach to value investing
Ben Graham is thought of as the father of value investing. He was an architect of some of the founding principles of buying undervalued stocks and waiting for them to recover. He was virtually wiped out in America's great depression of the 1930s, but the lessons he learned were very profitable later on. A lot of his legacy centres on doing detailed analysis of individual securities to find mispricing.
Later…

Unlock this Article with a 14 day free trial
Already have an account?
Login here