A value proposition for either consumers or shareholders is not obvious!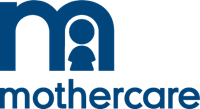 Share Price 46.37p (Down 26.5% today)
 
Bid Offer 46.25p/46.5p                   Mkt Cap Circa £78 million                       NMS 3,000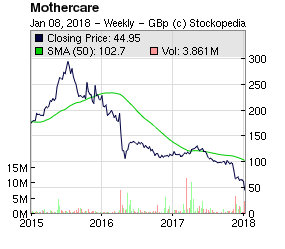 Introduction
Positive past rhetoric from management has brought in many new investors who chased the share price higher for awhile. The share price reached 772p high in 1996 than again a lower high at 523p in 2009.   I was tempted myself to purchase stock in March 2016 at 125p.  Quickly, sold later however at circa 140p following a disappointing trading update in July 2016.  Mothercare trading updates do always tend to disappoint.
18 months later, the share price today is trading at only a third of it previous share price.  Speculators may consider this the new bottom and will probably relish the chance to have a punt. I wish them luck!  
In the past, I have also bought other fashion retailers like French Connection, Laura Ashley and Boohoo. The first two stocks were recovery play which to this day are still stuck in similar recovery mode. Thankfully, I lost patience and I sold both of them at a small loss. Troubled retail stocks are generally value traps. They should only be bought when the stocks' fundamentals are improving and there is a tailwind behind the sector.
The third stock Boohoo plc was different in that it was a growth story. Unfortunately, I snatched too early at my double-digit gains. I have since regretted it because the share price went on to be a seven-bagger.

Link to my previous March 2016 article
Trading Update for 12 weeks up to 30/12/17
Find the link for the trading update here.
Mothercare's Lowlights
·         UK like-for-like decline impacted by lower footfall and spend, both in stores and                      online, following the continuation of consumer trends flagged in our half-year results
·         International sales remain challenging, stabilising toward the end of the period
·         Overall Group performance below expectations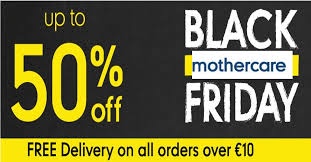 In their UK business, management took a "conscious decision to remain at full price to protect their brand positioning prior to Christmas but to then discount more heavily at the end of season sale". 
Can't really…

Finish reading with a 14 day trial
Already have an account?
Login here