Are Shell, Glencore & BAE Systems still top momentum picks?
The momentum screen I built last week highlighted energy giant Shell, commodity group Glencore and defence contractor BAE Systems as potential momentum plays.
All three companies have certainly benefited from strong momentum over the last year. But is this thesis still valid? This week I want to take a fresh look at these firms, to follow up on our coverage earlier this year:
Before I do that, I think it makes sense to check in quickly on conditions in some of the key markets in which these businesses operate.
Oil: The price of Brent crude oil has fallen by nearly 10% to under $90 per barrel over the last week. US WTI crude oil is now under $80, after a similar fall.
Source: IG
Other commodities: More broadly, the last year has seen the price of iron ore return to pre-pandemic levels.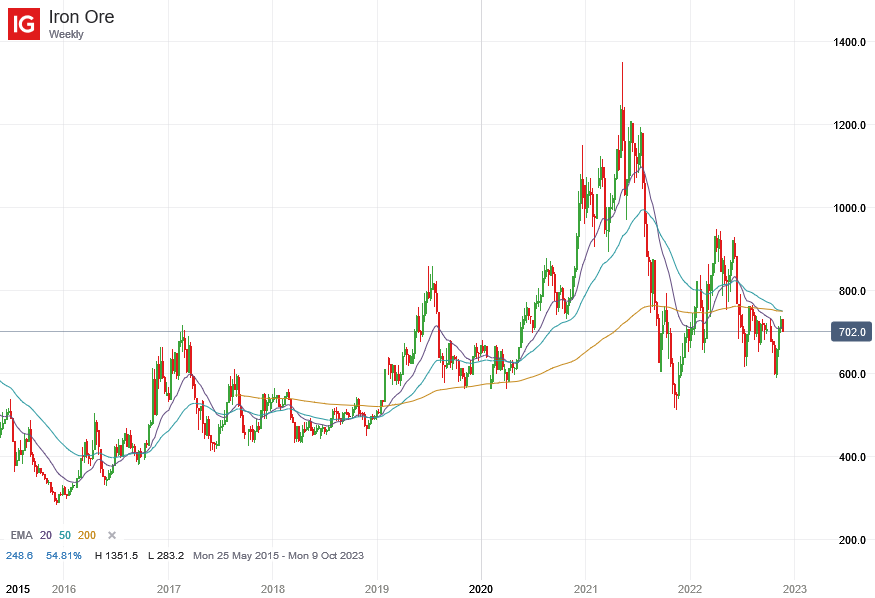 Source: IG

Copper, natural gas and gold are also well down from their pandemic highs, although they remain elevated compared to 2019.
Source: IG
Inflation: lower energy costs appear to be feeding into inflation data. US inflation fell to 7.7% in October – the fourth consecutive month of decline.
Source: Statista
Ukraine: The war in Ukraine is continuing, but fears of escalation appear to have eased, despite Western powers' continued commitment to provide military supplies.
Normalising? Dare I say it – but market conditions may just be starting to normalise. On this basis, it seems like a good time to revisit these popular FTSE 100 stocks.
Recent trading updates have remained positive, but if market conditions are changing, can these stocks really still have strong momentum today?
Summary: Defence contractor with activities including shipbuilding, aircraft and cyberwarfare. BAE's three largest markets by revenue are the USA (2021: 43%), UK (20%), and Saudi Arabia (12%). Together, they account for 75% of sales.
Recent trading & outlook: BAE recently announced that it had been awarded a £4.2bn contract to build a further five Type 26 frigates for the Royal Navy.…

Unlock the rest of this article with a 14 day trial
Already have an account?
Login here