As Inflation returns, will we see a recovery in the share price of Sainsbury, Morrisons and Tesco?
After three years in the doldrums that has even caught Warren Buffett out (his Tesco's stake cost him a lot of money).
Is this the time to consider investing in Sainsbury's, Morrisons and Tesco?
Or, will we see further problems ahead?
To be fair, both Sainsbury and Tesco's share price saw stabilisation, while Morrison's shares are up 70% from their lows of £1.39.
But for a sustainable recovery, we need to understand the factors that are driving the UK grocery market.
Let's get started. 
UK Grocery Market – Identifying the Driving Force
Inflation, Inflation and Inflation!
Inflation plays an important role for grocers because they can raise prices to earn themselves higher margins than normal. But the past three years saw consumer inflation fall close to zero, but food prices went into deflation and are recovering.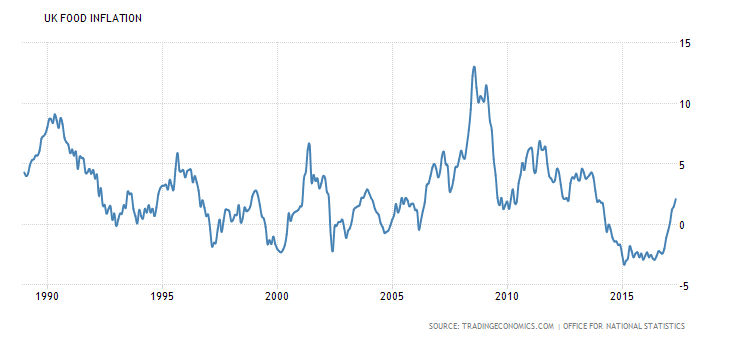 Food inflation is currently at 2.1% and is a big factor in the recovery of like-for-like sales to the big supermarkets.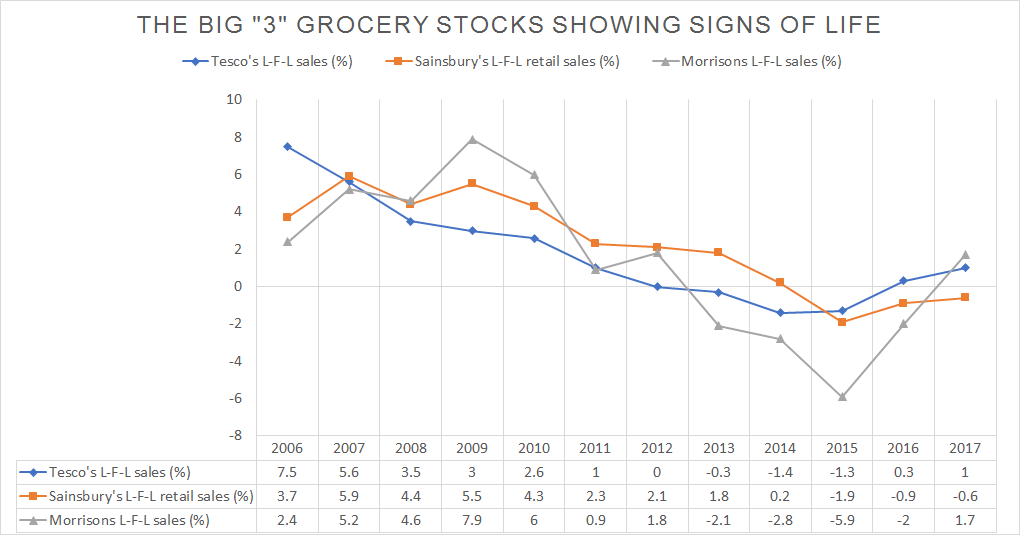 Whether this is a temporary recovery or a permanent recovery, it is too early to tell. In the past rising food prices resulted in profits bonanza for the "BIG FOUR" UK supermarkets. Now, the game has changed.    
New Players in Town
Well, these new players have been operating in the UK since the 1990s. Only recently, and I mean four or five years have they made a dent to the big supermarkets by eating away their market share. (See Below)
Table 1: - UK Grocery Market Share

For both Aldi and Lidl, they now account for 11.9% of t he UK grocery market and have gained 7.3% in market share from 4.6%, more than a decade ago.
To put this in perspective, both Aldi and Lidl have achieved average market share growth of 10% and 8.4% per year for the past ten years, while Waitrose grew 2.4% per year.
Meanwhile, the BIG FOUR saw average market share decline of between 0% and 1.1% per year.
This market share growth doesn't come from growing sales at existing stores, but from opening new ones.
Aldi is opening 70 new stores in the UK, but their long-term ambition lies…

Unlock the rest of this article with a 14 day trial
Already have an account?
Login here