Boohoo: Investing for success or disappointment?
Introduction
I've known about Boohoo since they listed in 2014 but, thanks to Paul Scott, I became much more aware of their attractions following a profit warning that halved their share price overnight. Sadly I didn't purchase any at the time and could only watch from the sidelines as the shares 10-bagged in 2.5 years. As an aside it took them a year to double from their 22p low, six months to double again and then six months to double yet again - so there was plenty of opportunity to join the party while it was in full swing.
However since peaking at 266p back in June 2017 the price has slumped by over 40% as concerns around the economy, falling high-street spending and slowing growth rates have taken hold. At the same time management are pouring money into new warehousing, additional business lines and keeping the website up-to-date; the big question is whether this capex is producing a decent return or not. So my aim with this analysis is answer a question: does the business deserve a premium rating (P/E > 50) or has it been puffed up by private investor interest? In a nutshell is this the next ASOS, with a 100-bagger share price, or the online equivalent of M&S?
Analysis
Let's start with growth then. Are sales and profits growing fast enough to deserve a high P/E? It turns out that growth is both excellent and persistent even without including sales from new labels PrettyLittleThing (PLT) and Nasty Gal. In H1 total sales grew by 43% while main brand segment profits grew at 38% although the latter figure excludes central group costs.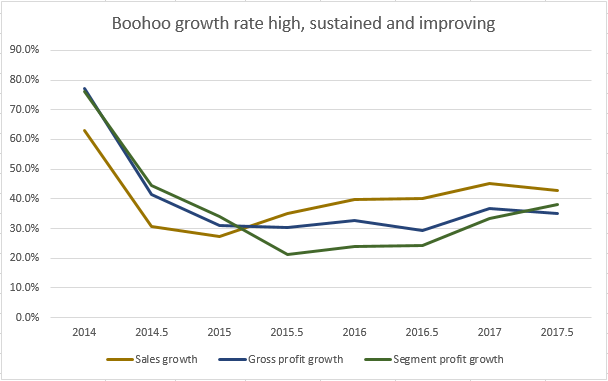 At the group level profit growth doesn't look quite so impressive as increasing costs in all areas of the business have worked against the high sales growth. This is why the reported margins have fallen recently. Right now it's hard to see a clear trend in margins, since they're only back to the level seen in 2014/15, but if the downward trend persists I'm going to start getting worried: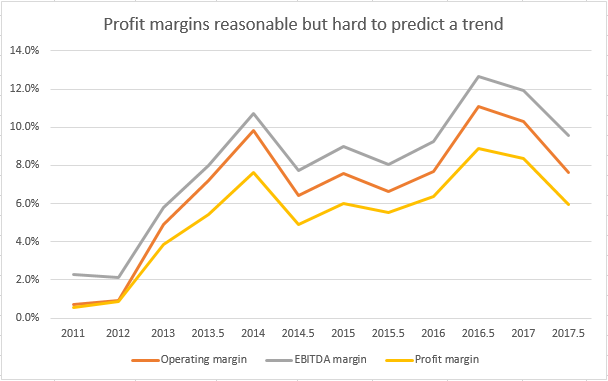 The obvious question then is what are the drivers behind these increased costs and are they setting a new normal for the group? At the top line the gross margin fell by 130 basis points…

Finish reading with a 14 day trial
Already have an account?
Login here