Small Cap Value Report (7 Jan 2015) - BOO, MJW, ESCH, TPT
Good morning! Lots of interesting things going on today;
Share price 23.1p (down 39% today)
No. shares: 1,123.1m
Market Cap: £259.4m
Profit warning - this online fashion retailer has issued a trading update for the four months to 31 Dec 2014. Looking at these highlights in isolation, they look fantastic;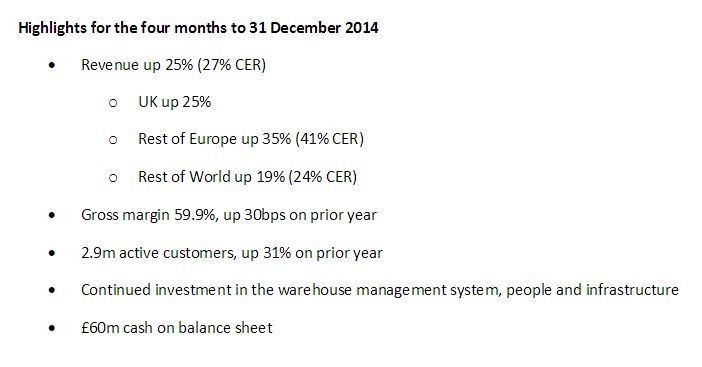 So why have the shares dropped 39% this morning? It's because share prices are set by investor expectations, and in this case BooHoo had been growing very strongly indeed - but, an even stronger result was expected.
Therefore the shares are rebasing this morning for lower growth expectations. So are they good value now?
Valuation - I find it easiest to work on normalised EPS figures. Stockopedia shows that broker consensus for the current year (which is almost finished, as BooHoo has a 28 Feb 2015 year end) is for 1.19p EPS, rising to 1.63p EPS next year.
One broker says the profit shortfall is likely to be c.30% to 0.83p EPS this year. Another broker has revised down to 0.8p EPS this year. So that puts the shares on a PER of about 29 times the current year earnings. Still expensive, some might say. However, it's still a fast-growing company.
As this year only has about 8 weeks left to run, we should really be valuing the company on 2015/16 earnings. Forecasts this morning have been revised down by about 35%, so we're looking at ballpark 1.0p to 1.2p, so if we estimate that consensus might drop out at say 1.1p for the y/e 28 Feb 2016, then that puts it on a PER of 21 times.
Balance Sheet - the company mentioned £60m in cash today, which is just under a quarter of the market cap, although note that this will be at a seasonal high after buoyant Xmas sales.
My opinion - it is rare to find a highly profitable, cash generative online retailer. BooHoo stands out as being far more profitable (as a percentage of sales) than Asos, or indeed any other UK online retailer that I can think of. It makes an operating margin of nearly 10%, and that's during the fast growth phase, when such companies are usually consuming cash, not generating it.
This tells me they have a considerable competitive advantage - namely that these guys are experienced rag traders - BooHoo grew out of a Manchester-based clothing wholesaler called Pinstripe…

Unlock the rest of this Article in 15 seconds
Already have an account?
Login here