Bovis Homes - CEO grasping the nettle
Bovis Homes – grasping the nettle 1050p     Mkt Cap  £1.4bn 

Bovis Homes unveiled a new financial plan in its interim results today. The new CEO Greg Fitzgerald, formerly the CEO of Galliford Try, who was appointed in April 2017 has acted decisively and its implementing a new plan. The essence is to shrink the business in terms of its operating units, get more control over processes, invest in training of the work force, weed out inefficiency and increase the quality of the product. The net effect of this is to see improved financial targets out to 2020. I see these as good news for shareholders and expect the share to continue to close the gap on the rest of the peer group in terms of both business performance and business valuation, assuming that the plan is at least partially delivered.
I first wrote about Bovis as a value situation in October 2016  Bovis Homes back at tangible NAV , when the Group was underperforming its own targets and also its competition in terms of sales and margins. The shares had fallen to 1x Tangible net asset value which I felt was usually a place where the downside was limited (see chart below). I used that net asset backing to purchase a position.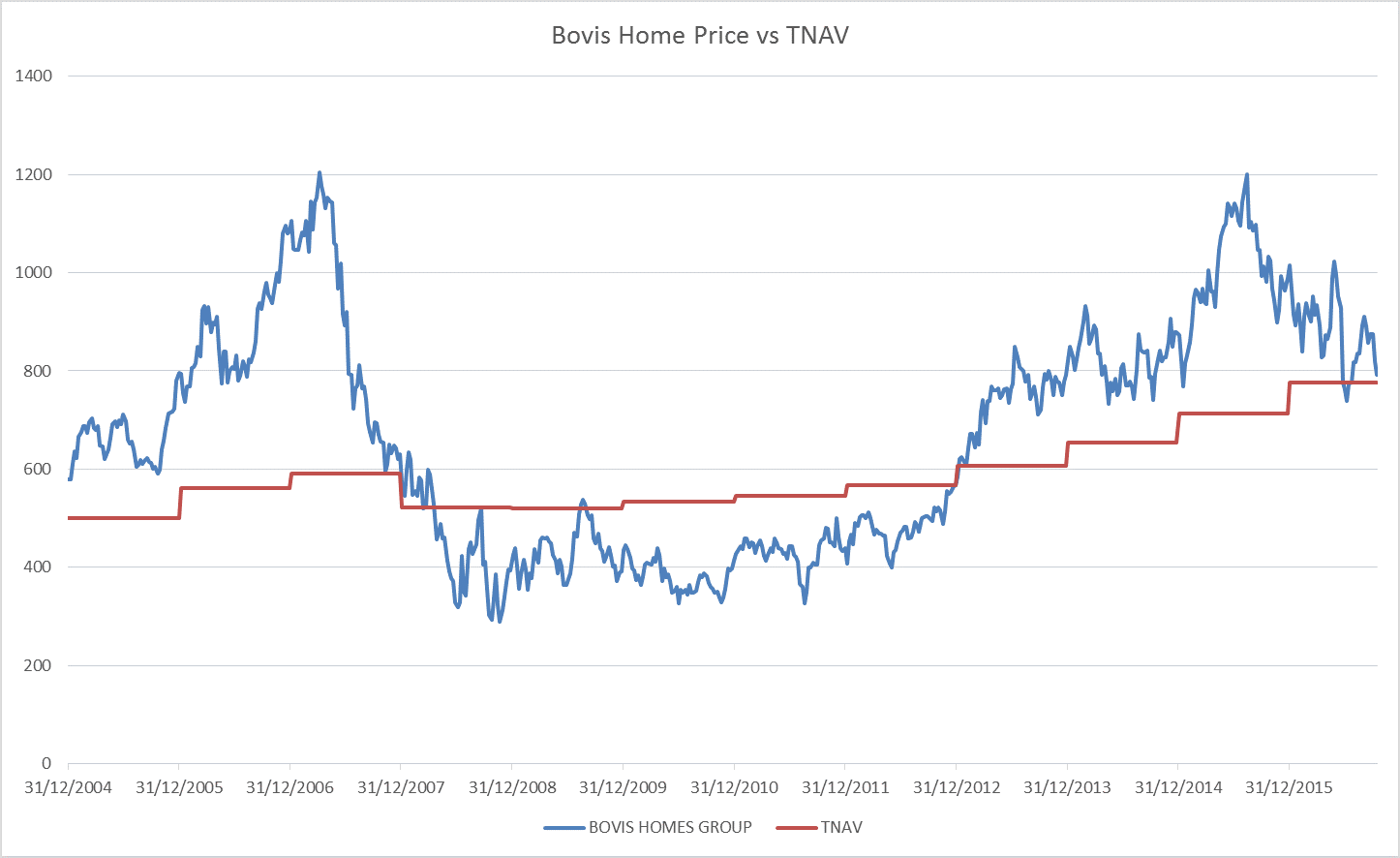 The longstanding CEO David Ritchie was fired earlier this year after another profit warning. The Group then received an approach from Redrow in March 2017, which was rebuffed. However this exemplified in my mind the value the industry saw in Bovis, in way that many institutional shareholders did not.


Focus on efficiency
The new CEO has put forward a sensible plan in my opinion. He wants to reduce some of the bloated capital employed in the business, in this case land held on the balance sheet. Slimming down large sites, selling off other sites which are non core, doing more with housing associations and better managing payment terms for land. The number of operating units will shrink from 8 to 7.  According to the financial plan the sales of non core land should liberate cash of c£180m or 134p share by the end of 2020, which will then be handed back to shareholders as a special dividend in FY19 and FY20. The Group is also targeting at ROCE of 25%, inline with…

Finish reading with a 14 day trial
Already have an account?
Login here