Let's get straight to it - the CAN-SLIMesque guru screen...

---
Guru Screen Review
Sometimes this is easy, with only 4 or 5 hits on the screen - this week we have 16!
Plus500 (LON:PLUS)
Herbie47 mentioned last week it is close to dropping out - still there for now, lost ground this week.
Globaltrans Investment (LON:GLTR)
Watching for now - I missed the breakout, I expect that last week's slight price drop is natural profit taking after a good rally the week before.
TCS Holding (LON:TCS)
NEW Entry Russian banking - looks good but, I don't want to have heavy exposure to Russia in the current political climate!
Fevertree Drinks (LON:FEVR)
My old favourite - I sold these back in September, anticipating the pullback, I didn't re-enetr in January, perhaps I should have. I attended the UK Investor show in April last year. They asked for volunteers to go on the stage with the legendary shorter Evil Kinievel (Simon Cawkwell). The prize was a bottle of rum - just for going on the stage. Well, I'm partial to the odd Cuba Libre, so I was up like a flash - £20 of rum just for sitting on the stage! There were 12 of us and we were all given a shot of tonic. We drank, then were given a second glass of tonic. We had to rate which one we liked the best. Out of 12 people, 10 preferred Tonic A (that turned out to be fever tree), 1 person preferred tonic B (Schweppes) and 1 though they were both no good without the vodka! Clearly Fevertree tastes better to most people. Evil's point was that the only difference is the botanicals - these are a tiny part of the cost of producing tonic water and he argued that Schweppes (or someone else) at any moment could make a similar tasting tonic and add some serious competition, so he was shorting them.  I see his point, but everywhere I go in the world I see Fevertree more and more. I'd be interested to see how their cola sales are going - I have a feeling  Rum and Coke is the new G&T.  And in case you don't believe me, there I am second from the right in the black shirt! And there is my free bottle of rum on the table on the right...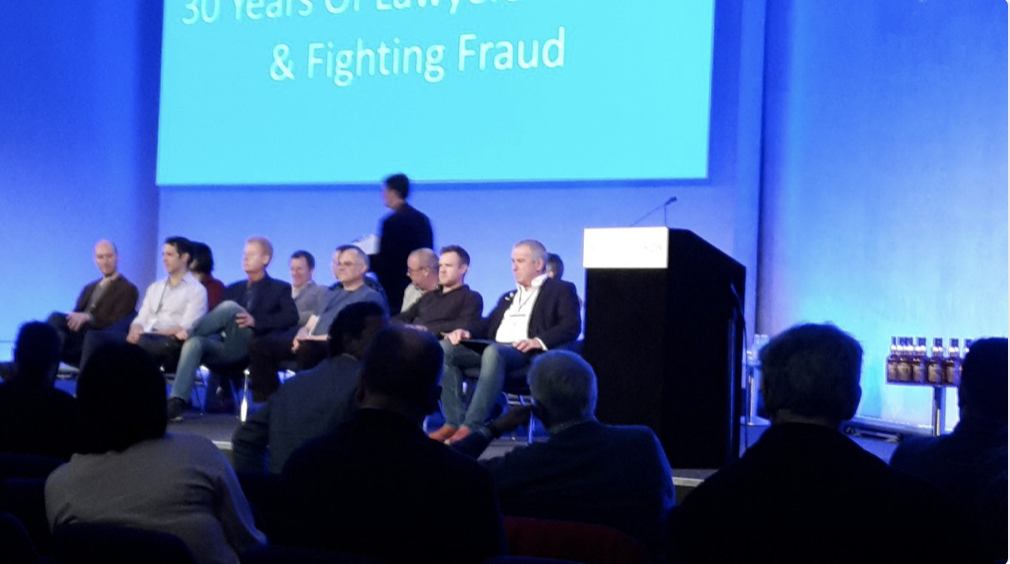 Oh and the share - great spike in volume last week only the weekly total, a massive correction, that would have shaken me out if I had bought, but strong recovery later in the week. I need to look into this more. The first half of this week will be an interesting story.
Kaz Minerals (LON:KAZ)
Last week I wrote "could be a base forming. Not sure yet if this is natural sideways action or the start  of Stage 3. Increasing broker support. One to watch." Nothing much more to add. VCP?
Tatneft' PAO (LON:ATAD)
I don't follow this one. Not ISA eligible.
Robert Walters (LON:RWA)
Read Glorenfeld And Herbie47's comments on this last week. Possible VCP? I was worried about the regular high volume down days, but there does seem to be an upward tightening in the price. And certainly impressive 2017 results.
Gamma Communications (LON:GAMA)
The moment I buy this it stalls - hopefully just a bit of profit taking - my timing was new days off on this... 
IG Group (LON:IGG)
The last 8 weeks have had increased volume, but limited movement in price. Possible attempted break out last week? very high volume on the 16/3 with a slightly negative impact on price.
Abcam (LON:ABC)
W/C 11/3 had very strong volume. Possible top of the cup in a base - 7 weeks in. Watch for now.
Numis (LON:NUM)
Possible profit taking after recent rally. My timing was terrible - Never listen to me!
Morgan Sindall (LON:MGNS)
50 day MA well below the 150 and 200. Wait and see on this one.
Avon Rubber (LON:AVON)
From 2010 to 2015, this has been spectacular, 2015 to date has been more volatile. Golden cross on the 150/200 day ma recently, but on the red weeks have had very high volume. Is this about to start another stratospheric rise? I'm not so sure, but one to watch.
ASOS (LON:ASC)
ah... the time to buy this (if not 2015 or 2010!) would have been 13 weeks ago
Gresham Technologies (LON:GHT)
Possible 25 week base? Alternatively, this has moved into stage 3. The 50 day MA is pretty much in line with the 150 day, show how long this has been hanging around the 170 to 200p area... On a positive note, the normalised EPS has moved in to new territories, not seen in recent years. I'm not ready for this yet, but I will monitor.
Spirax-Sarco Engineering (LON:SPX)
I'm very familiar with this company as an end user in my day job (manufacturing). They fit the "leader" part of CAN-SLIM perfectly being THE brand name in steam equipment. Watson-Marlow (sub division) make excellent and innovative dosing pumps, in fact I ordered one only last week. Good set of results last Thursday. I'm keeping a very close eye on this.
Disclaimer:
As per our Terms of Use, Stockopedia is a financial news & data site, discussion forum and content aggregator. Our site should be used for educational & informational purposes only. We do not provide investment advice, recommendations or views as to whether an investment or strategy is suited to the investment needs of a specific individual. You should make your own decisions and seek independent professional advice before doing so. The author may own shares in any companies discussed, all opinions are his/her own & are general/impersonal. Remember: Shares can go down as well as up. Past performance is not a guide to future performance & investors may not get back the amount invested.
---
---

Plus500 Ltd is an Israel-based online provider of Contracts for Difference (CFDs). The Company develops and operates an online trading platform for retail customers to trade CFDs internationally over more than 2,200 different underlying global financial instruments comprising equities, indices, commodities, options, exchange-traded funds (ETFs) and foreign exchange. The Company enables retail customers to trade CFDs in more than 50 countries and in over 30 languages. The Company's trading platform is accessible from multiple operating systems, such as Windows, smartphones (iOS, Android and Windows Phone), tablets (iOS, Android and Surface), Apple Watch and web browsers. The Company conducts operations in the European Economic Area (EEA), Gibraltar, Australia and certain other jurisdictions across Asia, the Middle East and elsewhere. Its subsidiaries include Plus500UK, Plus500AU, Plus500CY and Plus500IL. more »

LSE Price

Globaltrans Investment PLC is a Cyprus-based holding company. The Company is engaged in the provision of railway transportation services using own and leased rolling stock, as well as fleet engaged from third party rail operators, operating lease of rolling stock and freight forwarding (agency) services. The Company through its subsidiaries provides freight rail transportation, railcar leasing and certain ancillary services to clients in Russia, the CIS countries and the Baltics. The Company focuses on the transportation of key industrial freight, including metallurgical cargoes, oil products and oil, coal, and various construction materials. The Company offers railcar leasing in Belarus, Kazakhstan and Russia. The Company's total fleet consists of around 65,448 units, which include Gondola cars, Rail tank cars, Hopper cars and Locomotives. more »

LSE Price

Fevertree Drinks plc is a United Kingdom-based holding and investment company. The Company is a developer and supplier of premium mixer drinks. The Company's premium mixers consist of a range of all natural carbonated mixers, including Tonics, Ginger Ale, Ginger Beer, Bitter Lemon and Lemonades. The Company sells a range of products under the Fever-Tree brand, which include Indian Tonic Water, Naturally Light Tonic Water, Elderflower Tonic Water, Mediterranean Tonic Water, Ginger Ale, Ginger Beer, Naturally Light Ginger Beer, Bitter Lemon, Sicilian Lemonade, Lemonade, Spring Soda Water and Premium Cola. The Company caters to hotels, restaurants, bars and cafes, as well as supermarkets. The Company sells its products to a range of markets, such as the United Kingdom, Europe and North America. more »

LSE Price