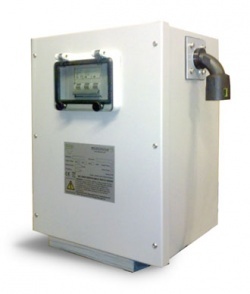 Advanced Power Components (LON:APC) the AIM listed specialist distributor of electronic components who have been operating since 1982 could be an interesting recovery stock having reported a return to profit in H1, with its year end at 31 August 2010, the next trading update in a couple of months time could be one to watch out for.
Advanced Power Components is a business split into a number of autonomous units who supply a wide range of specialist components and equipment to a range of customers within different sectors such as, aerospace, defence, display technology and specialist industrial and commercial markets.  APC acts as a manufacturers representative for a number of product suppliers and has been able to gain many components on an exclusive basis, which along with its key differentiator of offering a highly technical service give it a basis for gaining competitive advantage. [1]
An interesting development to watch regarding Advanced Power Components is a new product it has developed under the APC kvar brand called the imop™ (inductive motor optimisation panel), a product about the size of a briefcase which works by saving the amount of energy that is wasted through the use of electrical equipment by optimise each inductive load to its maximum efficiency.  According to the specialist website, [2]  the imop™ 'reduces carbon emissions and saves up to 25% on electricity bills', having recently attracted interest at the World Future Energy Summit held at the Abu Dhabi National Exhibition Center, APC have set up a company called Minimise Limited of which it owns 19% to market the imop™, and is now signing up worldwide distributors to target the industrial, commercial and residential customers who wish to reduce electricity consumption.  Looking to further develop its range within this growing environmental market Advanced Power Components have issued 437,420 new ordinary shares at a subscription price of 15.15p per share to the owners of Malfish Enterprises LLC who are behind the energy saving technology that APC adapted for use in its 'imop' energy saving product.
Commenting on the share issue, Mark Robinson, Chief Executive of Advanced Power Components, said: [3]
"This investment in APC by the owners of Malfish Enterprises LLC strengthens the relationship between the two companies. Malfish is developing a number of environmental technology devices which we hope will increase our portfolio…

Unlock this article instantly by logging into your account
Don't have an account? Register for free and we'll get out your way
Disclaimer:
This content has been created for information purposes only, and is NOT, in any way, a recommendation to invest.  This communication is a snapshot of a certain aspect of a discussed business at a moment in time, and is merely a basic starting point for research.  The article/thread has been created with honesty and integrity in mind and is based on publically available information sourced in relation to the title, such as from, RNS announcements, published reports, management comments, analyst reports, media coverage etc.  To this extent the author who has written the piece in good faith accepts no liability for the accuracy of the information and urges all readers to verify the content independently.  Please note that the value of investments may fall or rise and you may not get back the amount originally invested, or in some cases your investment may be wiped off altogether.  When investing, bear in mind that past performance is not a guide to future performance and that qualified independent financial advice should be sought before buying or selling shares.  The Author of this article may hold shares in the companies discussed.
---
---

APC Technology Group PLC is a United Kingdom-based company, which provides design, specification and distribution of electronic components and systems, lighting technologies and connectivity products. The Company's product ranges from critical components and Internet of Things (IoT) solutions to light emitting diode (LED) lighting. The Company's specialist electronic component distribution business, trading as Advanced Power Components (APC), is a distributor of specialized electronic components. APC Lighting Technologies trades as Minimise Energy Limited (MEL), which is engaged in the design, specification, supply and installation of individual LED projects. The Company, through Minimise Solutions Limited, offers advisory services to monitor, measure, analyze and verify energy and water usage. The Company, through EEVS Insight Limited, offers energy savings solutions. The Company provides services to the defense, aerospace, industrial, real estate, logistics and healthcare sectors. more »

LSE Price