Falling Stars - how to handle glamour shares that fall from grace
In the ten years to 2014, shares in online fashion retailer Asos soared from around 7p to £70 each. The stock became the stuff of folklore among those that had either made a fortune or missed the chance of making millions by selling out too early. Its relentless growth seduced investors and created blistering momentum that pushed it to a nosebleed valuation.
Despite concerns that Asos was priced far too highly, investors continued to buy into expectations that it could keep keep up the pace. So when it finally did start showing the signs of slowing down, the impact on the shares was dramatic. When the hopes of more spectacular growth were dashed, Asos found itself out of fashion.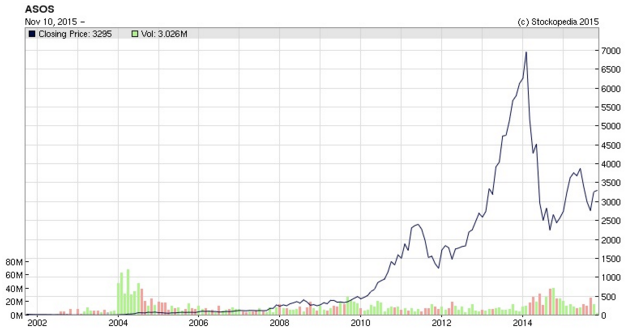 In the taxonomy of stock market winners Asos had become a Falling Star. Its financial and business quality continued to hold much appeal, but in the absence of hope, the extremely stretched valuation didn't reflect underlying fundamentals. When momentum declined, the stock lacked two of the main drivers of investment returns. As a result, it looked expensive and deteriorating. For some, it still looks expensive.

The profile of a Falling Star
Earlier in this series, Ed wrote about how focusing on high Quality, high Momentum shares regardless of price can open the door to finding the stock market's High Flyers - a class of high priced, compounding, market beating shares. Falling Stars are what you get when the Momentum leg of High Flyers gets kicked away. When brokers begin cutting their forecasts and the companies miss earnings expectations then expensive, quality companies can look very vulnerable.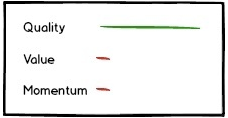 Falling Stars might be good quality businesses suffering temporary declines - and they may bounce back. But is the opportunity cost of holding them in the hope of higher share prices too much to bear? And is the sudden decline in momentum, as seen in Asos's case, something that will become far more severe?
One of the highest profile cases of this kind of re-rating occurred with the so-called nifty fifty companies of the late 1960s (see the Research Affiliates note on this here). Back then, this group of 50 large, good quality blue chips like General Electric and Polaroid were rated at anything up to 100 times earnings. Researchers Vitali Kalesnik and Engin Kose describe these stocks as…

Unlock this Article with a 14 day free trial
Already have an account?
Login here