Fever-Tree: Looking to crack America
Fever-Tree and I go back a few years. I first became aware of this wonder brand not long after the company floated in 2014 as artisan gin hit the big time. Even back then the shares looked expensive and it took me a few years to realise that the valuation stacked up and perform some in-depth analysis. With this in the bag I took a position in early 2017, intending to hold for the long term, but got shaken out last May when the company came out with an in-line trading statement.
Given that I exited at £27.68 this looked like a very poor decision as the shares continued marching upwards all the way to £40. Remarkable. However, in my update at the time, I mentioned my concerns around the valuation and the need for growth in America. With the interim results in July both of these areas remained an issue with the P/E hitting 73 and US growth an anaemic 15% due to a poor H1. Luckily growth elsewhere took up the slack and forecast earnings jumped to ~49p. Still we all know what happened in the last quarter of 2018 and by the time the price fell below £22 I suppose that in some way I felt vindicated!
Anyway with the year-end update a week or so ago indicating that results would be comfortably ahead of expectations, due to sales growth in all regions, the question I'm looking to answer is whether the current price of £26.20 is a decent entry point. It's certainly lower than my sale price, and the P/E is lower at ~52, but question marks over growth potential remain. Let's have a look at what the figures tell us.
Stock-specific Analysis
A good place to start with Fever-Tree is by looking at the ROCE progression. For a manufacturer the company is remarkably asset-light and this is because it outsources almost everything bar obtaining the ingredients. Everything else (manufacture, bottling, shipping etc) is done by third-parties and this has allowed the brand to grow at pace. As a result, with profits growing much more rapidly than capital investment, the ROCE has risen to almost 50%: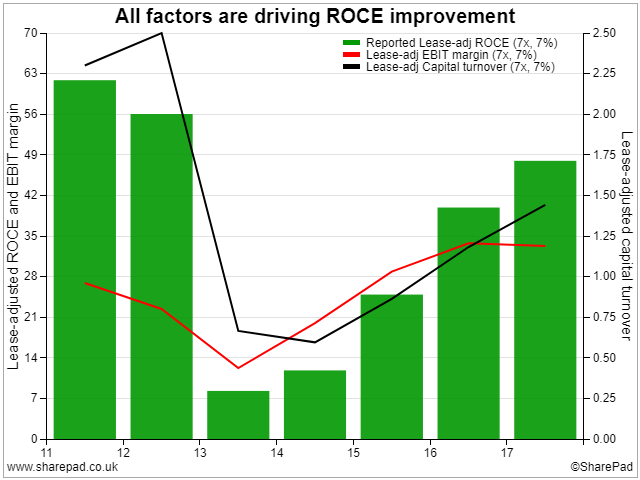 The clear drivers here have been a near-doubling in capital turnover (in that sales have increased twice as quickly as capital) with profit margins more than doubling. I'm personally…

Unlock this Article with a 14 day free trial
Already have an account?
Login here