High yielding small-caps that could benefit from a Boris Brexit bounce
If you believe the polls, the outcome of this week's general election will see Boris Johnson back in Number 10 in time for Christmas. But if, for argument's sake, the current PM retains power and wins a majority for the Conservatives (which is far from certain), how might the stock market react and which shares might benefit?
Among the potential winners of this scenario playing out are British small-caps. Since last autumn, when the market fell sharply, mid- and large-cap indices have done a decent job of recovering, but not so the small-caps. Both the AIM All-Share and FTSE Small-Cap have underperformed a more resilient FTSE 350: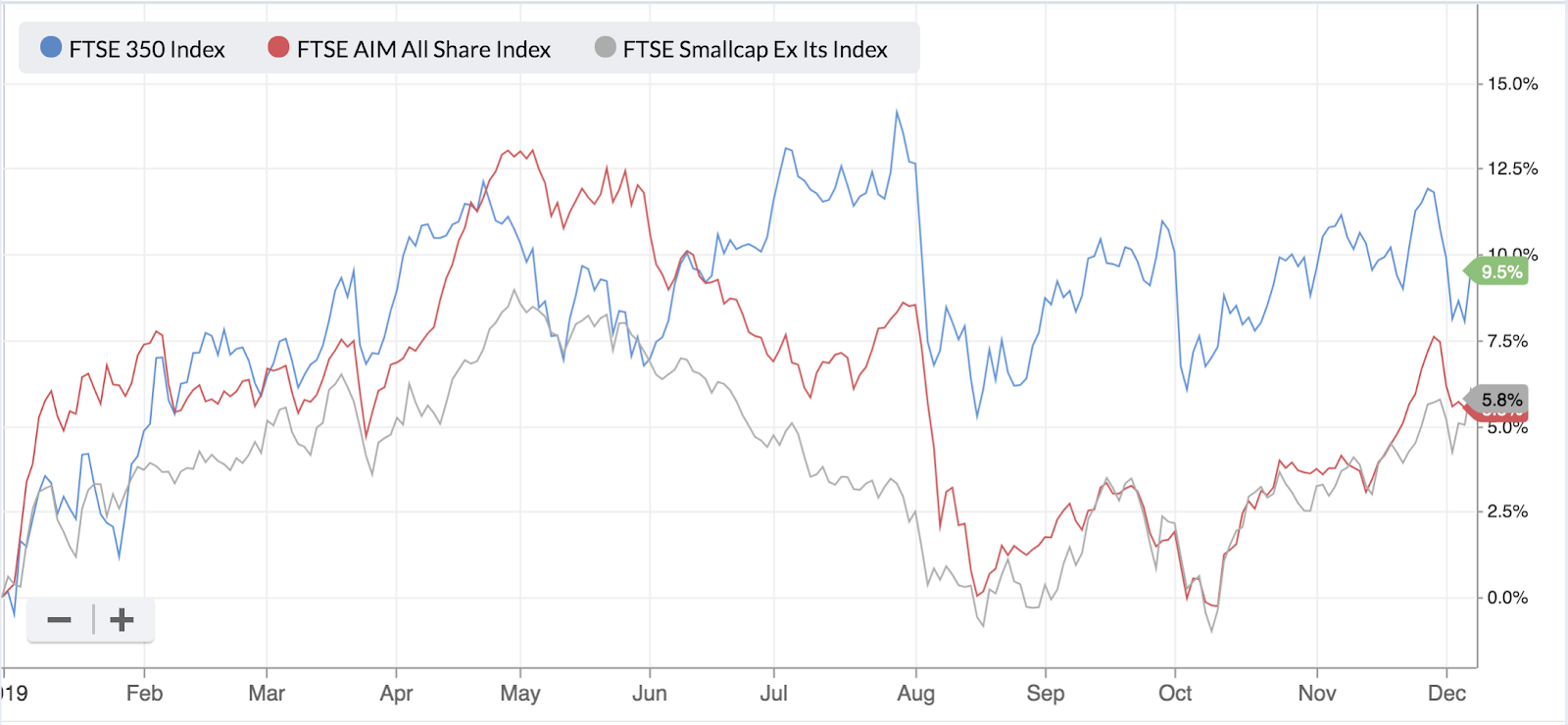 Arguably, small-caps have suffered more acutely from a haze of uncertainty caused by the election itself and the all-consuming issue of Brexit. At the smaller, riskier and more unpredictable end of the market, this kind of heightened concern spooks investors. Many will be watching and waiting to see how events unfold.
A regular theme in press commentary about what will happen next is what the journalist David Stevenson calls the "Boris Brexit bounce". The argument is that equity prices have suffered from several years of negative sentiment and that a Conservative majority could offer enough clarity to trigger a market rebound.
Brexit - like it or not - would be more likely to progress unimpeded and the economic outlook for smaller UK-oriented companies would arguably be more certain. In turn, a strengthening of the pound and an improvement in consumer confidence would also boost domestic-facing companies.
So how can you go about finding these kinds of shares?
One option is to focus on higher quality, small-cap dividend payers. Dividends aren't often associated with fast-growing smaller shares, but the landscape on this front has changed a lot in recent years. More than £1.1 billion was paid out in dividends by AIM companies in 2018, and the payouts have tripled since 2012. The prospective yield on AIM stocks stands at around 1.5% - not exactly eye-catching for income hunters. But if you dig around it's possible to find higher forward yields without making too many compromises.
To give it a go, I used the following screening rules:

Essentially, the screen looks for a minimum forward dividend yield of 4%, with forecasts showing further dividend growth next year. Each company needs…

Unlock the rest of this article with a 14 day trial
Already have an account?
Login here