Holland Colours NV is a manufacturer and supplier of pigments, granulates and pastes based in the Netherlands.

It has a really good investment profile. It's history of revenue and profits is fantastic.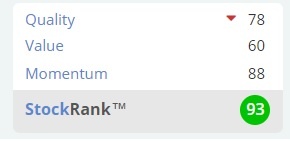 It has a great Stock Rank profile and increasing broker estimates which is something I look for when buying.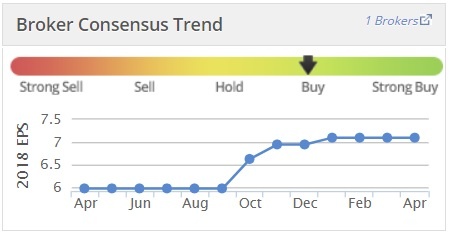 I've been invested in £HOLCO before taking a 15% profit between March & November 2017. I sold out due to a strong bearish break below the Ichimoku cloud.


I use Ichimoku Clouds as a way of picking a trailing stop loss and it's served me really well in terms of running winners and cutting losers.In this case (Nov 2017) I actually picked the bottom of trend. C'est la vie! This is bound to happen from time to time.

Fast forward to early January 2018 and the stock has taken off with heavy volume. The fundamentals that drive my screens are all in place and now Ichimoku signals are all positive. I'm back in on the 3rd Jan. But the euphoria passes and the stock consolidates and has been consolidating now for over 3 months.

Thanks to brucepackard and schober I have been able to resurrect my charting packages using the alphavantage data feed (see Best source of historic prices thread) and that means I was able to quickly  scan my portfolio through my software. What jumped out was when I viewed Holland Colours with my Point & Figure Charting software.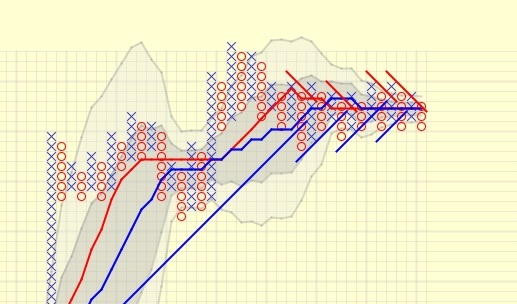 What stands out for me is the tightening of the price action and this is highlighted by the very narrow Bollinger Bands. In Point & Figure terms this referred to as a Pinch. When a Pinch occurs the future is very uncertain as bulls and bears are so finely balanced that is is hard to have any degree of certainty who will prevail. 

Here's a Stockopedia version of the Point & Figure Chart where I've cleaned up the chart and included some boxes to highlight the tightening.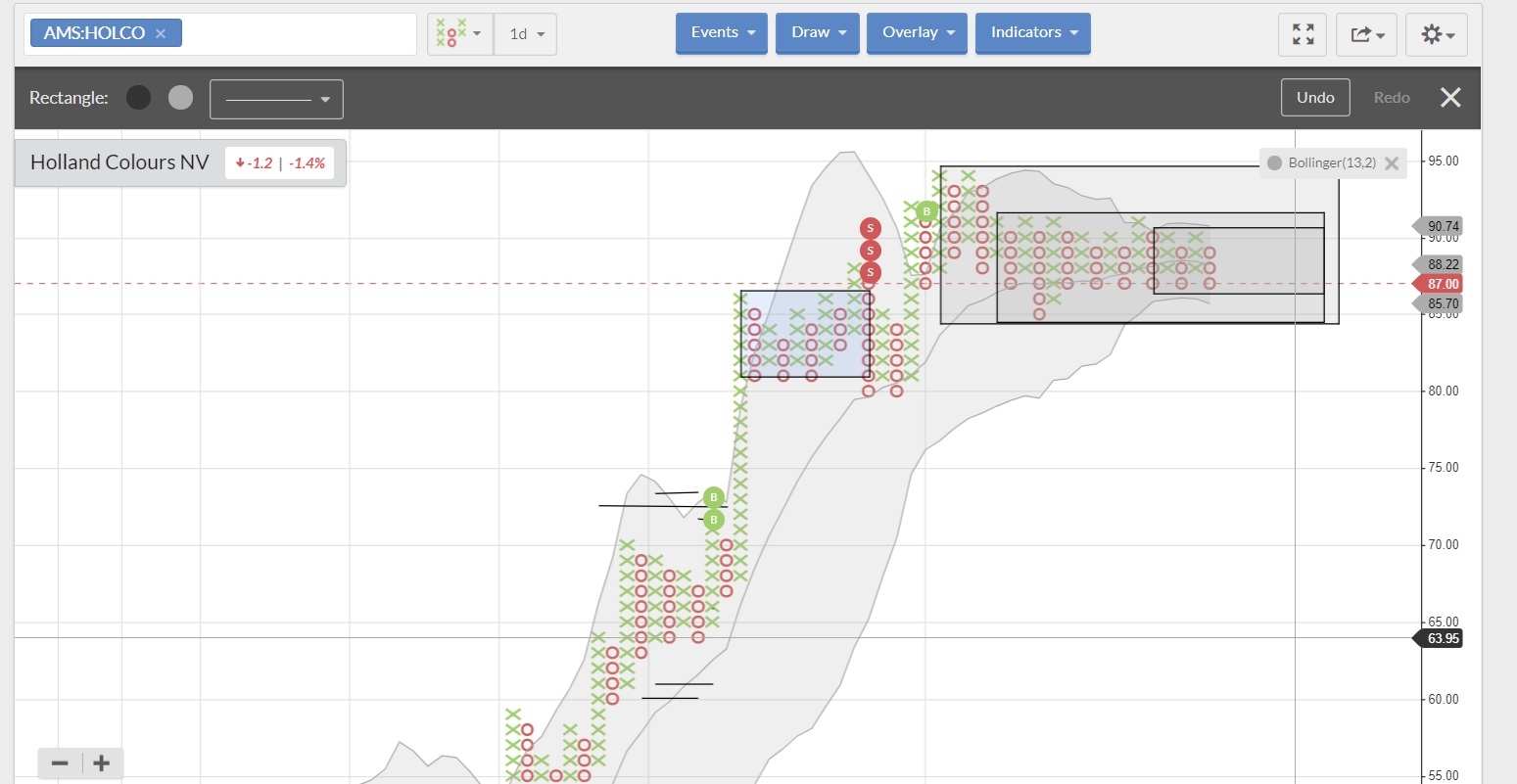 Perhaps the lesson here is that with small caps the price can lie dormant for long periods, then a burst of exuberance can be followed by some cooling until further news occurs. Perhaps I just need to be a little more lenient with high quality small caps.

To counter that I might argue that if this stock is just going to lanquish for extended periods is there an opportunity cost, after all I could be invested in stocks that are clearly trending and carry less uncertainty. I'm not sure what the answer should be but at present I'm not fully invested and so I'll continue to hold ... for now.

Comments welcome ...
Phil

P.S. If you've found this post useful or interesting then please consider supporting me in my first marathon which you can read about here ... https://www.stockopedia.com/co... 
Disclaimer:
As per our Terms of Use, Stockopedia is a financial news & data site, discussion forum and content aggregator. Our site should be used for educational & informational purposes only. We do not provide investment advice, recommendations or views as to whether an investment or strategy is suited to the investment needs of a specific individual. You should make your own decisions and seek independent professional advice before doing so. The author may own shares in any companies discussed, all opinions are his/her own & are general/impersonal. Remember: Shares can go down as well as up. Past performance is not a guide to future performance & investors may not get back the amount invested.
---
---

Holland Colours NV is a manufacturer and supplier of pigments, granulates and pastes based in the Netherlands. The Company is engaged in the production of concentrates for coloring plastics, available in both solid and liquid form and applicable for various types of plastic materials, particularly for polyvinyl chloride (PVC) and polyethylene terephthalate (PET). It concentrates focuses on three markets: Building & Construction, comprising colorants for pipes, fittings, cladding, siding, window profiles, roofing materials and fences; Plastic Packaging, including color preparations for PET packaging of food and drink, cosmetics and personal care products; and Silicones & Elastomers, including colorants for sealants and silicone rubber products. The Company is organized in three regional divisions: Europe (including the Middle East, India and Africa), the Americas, and Asia. It operates production sites in the Netherlands, Hungary, the United States and Indonesia. more »

AEX Price